Linda Nazareth
Economist & Trends Expert, Author, Broadcaster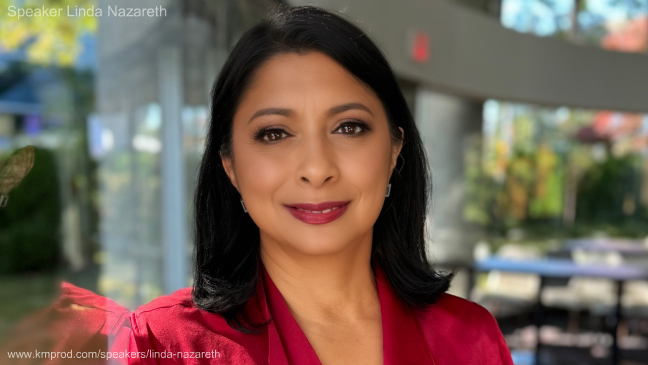 Bio
Speaker Linda Nazareth is the Senior Fellow for Economics and Population Change at policy think-tank The Macdonald-Laurier Institute. Linda is an expert in demographic and economic trends. Her talks focus on what will happen — and what you need to think about to be on the right side of change. +
Linda began her career as a government economist where she specialized in labor market planning. This was followed by a stint at a major financial institution as a senior economist. Wanting to change things up, Linda lobbied to have a job created for her on the Business News Network (BNN) while it was a startup, and spent a decade on-air as their in-house economist.

Now, Linda is a bestselling author and full-time keynote speaker. Her clients have included everyone from American Express through to The Economist, and all have benefitted from her ability to take big ideas and distill them into information that they can use for their own strategic plans.

Linda's most recent book, Work Is Not a Place: Our Lives and Our Organizations in the Post-Jobs Economy was nominated for the National Business Book Award. It draws on research and insights she has collected from cross-sector organizations and discusses why replacing the idea of "jobs" with that of "work" might not be that bad after all.

A frequent media commentator, Linda has been quoted everywhere from the Wall Street Journal to WIRED magazine, and is a columnist with The Globe and Mail.--
Topics & Categories
Artificial Intelligence (A.I.)
Business Management & Strategy
Digital Transformation
Diversity & Inclusion
Economics & Finance
Future Trends
Human Resources & Workplace Culture
Women of Influence
Linda works with every client to customize her presentation for their audience. Some of her topics include:
Linda Nazareth's Speaking Presentations:
Resilience in the Age of Disruption +
The next decade will be a time of unprecedented transformation, a time when waves of disruption rock the economy and the world that we know. The leadership challenge ahead will be unprecedented: decision-makers will face a never-ending need to think quickly and adapt instantaneously to change while at the same time crafting the best long-term path and inspiring confidence in those around them. Resilience, for individuals and for organizations, will be what sets the winners apart from the losers.
In this inspiring presentation, economist Linda Nazareth talks about the forces that will re-make the economy in the years ahead and why resilience is more important than ever before . Using examples of how companies have coped with previous disruptions she will look both at the lessons from the past as well as how and why leaders must make their own history as they deal with what lies ahead. --
Economorphics: The Trends Turning Today into Tomorrow +
From globalization to urbanization to dealing with demographic change, the world we know is morphing into a different planet with different economic opportunities and challenges. What are the trends taking today into tomorrow, and what are the trends that are resulting from the shift? In "Economorphics", Linda Nazareth talks about the dozens of things she sees happening, and the challenges and opportunities they present to the economy, the labour market and the financial markets–and to your industry as well. --
Work Is Not A Place +
In a world where many people can work anywhere, where will everyone work? And on the subject, who will be working or finding it difficult to find work? From demographics through to trade through to technology, many things are changing the labor market. What are the trends at play – and how should you and your organization position yourselves for what is ahead?

In this engaging presentation, Linda Nazareth looks at the many labour market trends now hitting North America and the way that they will affect everything from commercial construction through to the stock markets. Separate the myths from the realities as you deepen your understanding of the exciting changes – and the resulting challenges – ahead. --
The Economic Power Shift +
Ten years ago, a list of the largest countries in the world would have had the United States in the top spot and Canada in the top 10. Now, neither of those things are true – and ten years from now the deck will get shuffled again. Exacerbated by the demographics and the effects of the economic crisis, the world is re-grouping and the implications will be huge.
Weaving stories in amidst the statistics, in this presentation Linda Nazareth looks at the way that the world's power structure is changing and the implications and opportunities that will come out of those changes. --
Diversity Not for Diversity's Sake +
As we move forward into a brave new economy, every organization must cull talent from wherever, and whomever, they can get it. Yes, this is the age of diversity, but it is not about good optics, or about anything but the bottom line. Today's diversity is not diversity for diversity's sake, but diversity in order to be the best.
In this thought-provoking keynote, economist Linda Nazareth draws on research done for her book Work Is Not a Place: Our Lives and Our Organizations in the Post-Jobs Economy to look at the way that the world of work is evolving and what companies need to consider as they build their future talent pools. From global trends to demographics to technology she covers the big picture, and then challenges her audiences to think about how far they will go to attract and keep workers.
One-size-fits all is over, whether we are talking about workers, or policies or even about the way work is structured. By guiding them through the realities ahead, Linda's presentation gives her audience the tools to manage a diverse and dynamic workforce in a world in flux. --
People, Places and Changing Everything +
We are becoming an older world, a crowded world, and a world on the move. People are not just living longer, they are cris-crossing the globe in search of opportunity at a pace that has never been seen before in human history. In the process, they are literally changing everything.
In this fascinating presentation, Linda Nazareth looks at demographics, population trends, migration and social trends to paint a picture of where North America and the world will be in coming decades, and where your organization needs to be in light of the changes. --
Ladies First +
Women are making huge gains in terms of economic power, both in North America and around the world – or are they? In this presentation, Linda Nazareth uses an economist's lens to survey the progress of women and to talk about their implications.
Will more stay at home dads change the nature of their communities? Will more female politicians change the nature of government? And will nothing much change at all? Weaving stories in with the statistics and insights, Linda offers a view into what is happening in terms of women and economic activity – and what is yet to come. --
Event Moderator +

Linda Nazareth is available to moderate events, conduct on-stage interviews, etc. Contact us for more information. --
Economist Linda Nazareth is represented by K&M Productions. For more information, Linda Nazareth's speaking schedule, fees & booking Linda Nazareth, contact us.
Testimonials
Your presentation was extremely informative and thought provoking! Many of our members requested a copy of your presentation as a reference tool to look back on.
–Calgary Region Home Builders Association
[More..]
Your presentation was extremely informative and thought provoking! Many of our members requested a copy of your presentation as a reference tool to look back on.
–Calgary Region Home Builders Association
Your presentation was of great value to the participants and was described as being both thought provoking and intelligent. We enjoyed the opportunity to work with you.
–Canadian Society of Club Managers
[Less..]