Fee Range
PGgzPkZlZSBSYW5nZSBmb3IgVGhlIFN0eWxhbWFuZGVyczwvaDM+PHA+JDEsNTAxIC0gJDIsNTAwIENBRDwvcD4=
Request More Information

The Stylamanders
Interactive Musical-Comedy Stage Shows for Family Events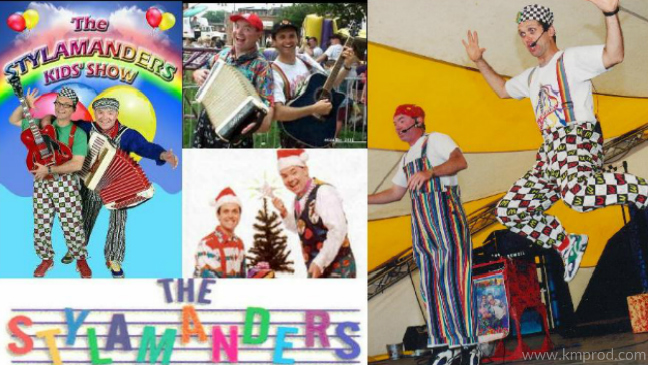 Show Description
The Stylamanders (based in Toronto) are an extremely popular and well-established high energy musical comedy duo who specialize in interactive family shows, and are very well-suited for corporate family-oriented events all year round.
They have recorded several best selling children's albums, write their own songs, include lots of audience participation, championship yo-yo tricks, crazy choreography, and some very silly improv to delight the whole family!
Mark Kersey is the keyboard player/yo-yo champ. Many remember him as "Mark The Repairman" from the original Mr. Dressup series seen on CBC. Mark is an accomplished musician, and was the 1984 Canadian yo-yo champion. He was also 1/2 of The Original Canadian Dueling Pianos Show and is also a very accomplished keyboard player as well as accordionist.
Paul Gibson plays guitar and writes many of the songs The Stylamanders perform. He is a trained actor (having performed everything from Shakespeare to Dudly The Dragon) and is a wonderful singer too!
For holiday seasonal events, The Stylamanders have written a fast paced family-oriented show that balances their own original Christmas songs with traditional favourites. They have a surprise gift for Mark to open, cool yo-yo tricks, a tree they decorate with bubbles, and even have the kids join their secret club, the "Santa's Little Helpers."
For more information, fees & booking The Stylamanders, simply contact us.