Fee Range
PGgzPkZlZSBSYW5nZSBmb3IgQmVuIE5lbXRpbjwvaDM+PHA+JDI1LDAwMSAtICQzMCwwMDAgVVNEPC9wPg==
Request More Information

Ben Nemtin
Speaker; Cofounder of The Buried Life Movement; #1 New York Times Bestselling Author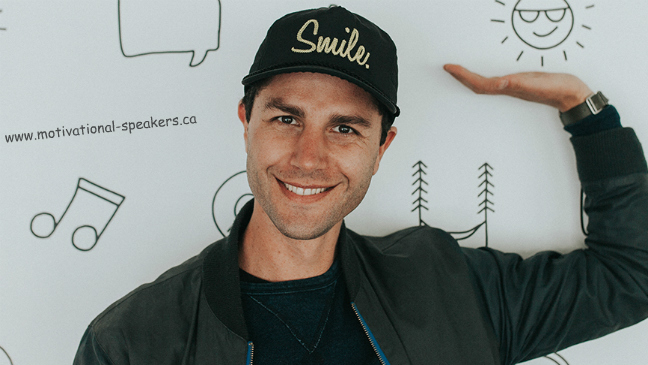 Bio
As the #1 New York Times bestselling author of What Do You Want to Do Before You Die? and star of MTV's high rated The Buried Life, speaker Ben Nemtin uses keynote presentations to help empower and motivate groups to make a difference and live courageously. Nemtin, as the cofounder of The Buried Life movement, has shared his message of radical possibility on The Today Show, The Oprah Winfrey Show, CNN, FOX, and NBC News.
In his first year of university, Nemtin was unexpectedly hit with a depression that forced him to drop out. In an attempt to feel more alive, he created the world's greatest bucket list with his three best friends. They borrowed a rickety old RV and crisscrossed North America, achieving the unthinkable. And most importantly, every time they accomplished a dream of their own, they helped a complete stranger cross something off their bucket list.
From playing basketball with President Obama to having a beer with Prince Harry, from reuniting a father and son after seventeen years to surprising a young girl with a much-needed bionic arm—Nemtin's bucket list quest has inspired millions to thrive personally and professionally. President Obama called Nemtin and The Buried Life "inspiration for a new generation" and Oprah declared their mission "truly inspiring."
An acclaimed keynote speaker, Nemtin has headlined business conferences and Fortune 100 leadership teams around the world, garnering standing ovations from AIG, Anthem, Amazon, FedEx, Harvard, Microsoft, Verizon, and more. Ben is recognized as one of the "World's Best Motivational Speakers" as well as a "World's Top Organizational Culture Thought Leader" by Global Gurus.
Topics & Categories
Change | Change Mgmt.
Human Resources & Workplace Culture
Inspiring Stories
Leadership
Mental Health
Motivational Speakers
Social Change/Humanitarian Issues
TED Speakers
Virtual Presentations
Ben Nemtin Speaking Presentations:
Leading with Purpose

+
Transformational leaders want their teams to succeed in life, not just at work.
This is the new leadership.
One of the best ways to help your team gain purpose is to connect with them around their personal and professional goals. As the lines between personal and professional lives blur, it's time for leaders to develop the whole person. To learn more, read this Forbes article featuring Ben and Deepak Chopra about Emotional EQ and Leadership.
Driving teams to thrive today requires new strategies for connecting and getting results. Retention and engagement are major issues and old leadership models don't deliver like they once did. Effective leaders must go deeper and show empathy and understanding to help teams reach their true potential.
Once you commit to big goals and live with intention, life opens up with unending possibilities.
When team members truly feel that their leadership and organization cares about their personal and their professional development, that's where the magic happens.

Takeaways audiences will learn:
Reslience in the Face of Uncertainty

+
The world is changing faster than we ever imagined, leaders and teams have to dig deep within themselves to break through and find opportunity in uncertain times. Before becoming a #1 NYT best selling author, playing basketball at the White House, having beers with Prince Harry, or living out his other dreams, Ben suffered from crippling depression.
After committing to a series of positive life changes, Ben had a shift in perspective that changed his outlook on life and opened himself up to endless possibility. From there he committed to following his buried dreams and helping others through acts of service. The rest is history and Ben's life changing message has opened up audiences around the world to cultures of service, gratitude and endless potential.
Takeaways:
5 Steps to Make the Impossible Possible

+
Ben has driven countless people to achieve their dreams, as both a helping hand and as an inspiration. These experiences have taught him that articulating and prioritizing your personal goals is not a selfish act—but one that creates a positive ripple effect that inspires others to live their best life. Ben weaves the remarkable story of how The Buried Life grew from 100 impossible dreams into a global movement and connects his lessons to the fabric of our daily lives.
Ben's message of radical possibility combined with his '5 Steps to Make the Impossible Possible' leaves audiences not only inspired but also equipped with tools to tackle the seemingly insurmountable. Ben's system of achieving impossible goals demystifies daunting tasks by turning 'pipe dreams' into 'projects' and creates inspiration through action and accountability. Ben reminds us of the lasting power of service and that it's never too late leave your impact on the world.
Audiences will learn:
New Leadership: Why You Matter

+
Throughout life, you have been setting goals for your career, college, relationships and finances. When was the last time you did something just for you? Psychologists say that focusing on personal goals helps promote positive mental health by giving you a vehicle for self care while keeping you energized and avoiding burnout. Simply put: you can't take care of other people if you don't take care of yourself.

Prioritizing your personal goals isn't just for your benefit, however, it's for benefit of your organization. Companies with a people-first culture see measurable improvements in productivity, lower absenteeism, higher customer satisfaction and improved recruitment. By putting yourself first, you put yourself in a position to serve others. Ben facilitates exercises that drive us towards our goals by implementing tiers of accountability and he inspires action through masterful storytelling and tangible take away.
Audiences will:
Rethinking Mental Health

+
Ben Nemtin is a mental health advocate who believes that all humans have ups and downs. He believes the stigma around mental illness can be broken through open, honest conversations. However, the onus is not on the one in five who struggle with mental health to break the stigma. The responsibility falls on all of us.
By showing how his vulnerabilities have become his strengths, Nemtin gives others the courage to talk about their internal battles. He shares the tools that help him cope with the stresses of life and emphasizes that it is ok to reach out for help.
Audiences will:
Community of Service

+
"It is the power of giving, compassion and hope that will get us through hard times." Ben has experienced this first hand. He has helped hundreds of people accomplish their dreams over the past 15 years and this feeling of connectedness and purpose has fueled him through feelings of uncertainty.
Ben shares touching stories of helping others to not only inspire but also offer insight that can improve our daily life and our work environment. A culture of service can unlock potential and align team members in the workplace and in their communities. And contrary to popular belief, helping others doesn't always have to be a selfless act. Giving can actually help us in more ways than we think.
Takeaways:
Workshops:
Mental Health Toolkit Workshop

+
Build your mental health toolkit to increase resilience, lower stress and manage the ups and downs of life with a greater sense of ease.
This workshop offers tangible tools to help you navigate stressful times of uncertainty. The session is designed to give tangible takeaway to boost your mental health and energy offering free tools and habits to implement immediately.
Ben Nemtin believes everyone should have their own mental health toolkit to optimize performance and wellbeing – this session will help you build yours. --
List Writing Workshop +
Ben Nemtin's 30-minute list writing workshop puts the "5 Steps to Making the Impossible Possible" into action. We must create inspiration by taking steps toward our goals and this workshop does exactly that.
The breakout session includes writing your list, identifying the most important item on your list, dream sharing with an accountability partner and helping one another reach our goals in intimate group settings.
These steps are designed to build accountability around personal goals, to generate inspiration by stimulating small actionable steps and to illustrate that help might just be right next to you. --
Testimonials
I like the way you help folks. Keep doing what you're doing.
–Barack Obama, 44th President of the United States
[More..]
I like the way you help folks. Keep doing what you're doing.
–Barack Obama, 44th President of the United States
We worked with Ben on our first-ever partner community virtual event. In the wake of COVID-19 uncertainty, Ben navigated this new virtual world with us, adapting his live presentation to a webinar format that had everyone engaged until the very end. We would highly recommend him as a virtual keynote.
–LogMeIn
Having Ben as a guest speaker at Headspace was nothing short of sublime. Not only is his own story an incredible inspiration, he also stands for creating the culture where others can inhabit a life they love.
–Headspace
I have run many conferences over the years and one challenge is the "last speaker". It is extremely hard to finish with a "lift" at the end. Ben was by far the best I have ever seen. Well done!
–Vizient
Ben's storytelling and ability to connect with our audience was apparent from the minute he greeted our participants. The message was perfectly aligned with our theme and I had so many attendees say it was the best event to date. I would highly recommend Ben to anyone wanting to add that "WOW" factor to their event.
– FedEx
Ben's work is as personal as it is universal. Beyond living a joyful, bold life, the underlying message he has imparted onto our people is to curate a life of mental wellness, and that self-care and care for others are indivisible. His is a message of heart and humanity.
–Lululemon Athletica
Ben's message continues to be a part of our culture here at Lincoln. In short, Ben spoke and our people listened. Our associates left his keynote inspired and took action towards their goals. We reported and promoted individual bucket list achievements and this inspired others to take action. Before long, our associates were helping each other achieve their dreams and this naturally created a "peer encouragement" sub-culture. Ben's presentation is more than a keynote, it is a culture shifting experience.
–Lincoln Financial Group
Ben's transformational keynote energized our team to move towards more productive, satisfying lives by committing to something greater than ourselves. Ben inspired a culture of service where we support each other, both inside and outside the office. This was a catalyst moment for our newly promoted senior managers.
–Deloitte
[Less..]