Fee Range
PGgzPkZlZSBSYW5nZSBmb3IgTmVpbCBQYXNyaWNoYTwvaDM+PHA+JDQwLDAwMSAtICQ1MCwwMDAgQ0FEPC9wPg==
Request More Information

Neil Pasricha
Leadership Keynote Speaker, Bestselling Author;
Positive Psychology Researcher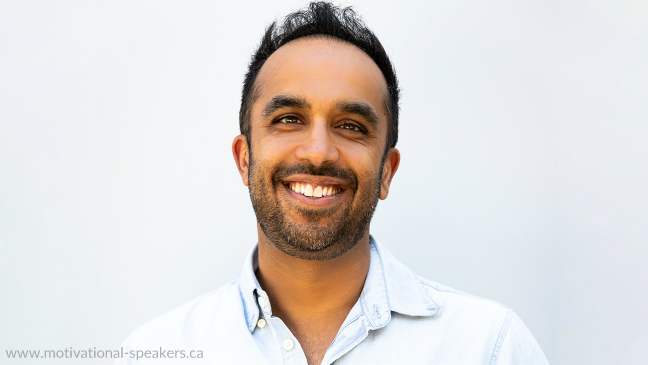 Bio
Neil Pasricha is the New York Times bestselling author of The Happiness Equation and The Book of Awesome series, which has been published in ten countries, spent over five years on bestseller lists, and sold over a million copies.
Pasricha is a Harvard MBA, one of the most popular TED speakers of all time, and after ten years heading Leadership Development at Walmart he now serves as Director of The Institute for Global Happiness.
He has dedicated the past fifteen years of his life to developing leaders, creating global programs inside the world's largest companies and speaking to hundreds of thousands of people around the globe. +
Neil Pasricha helps people live happy lives.
He is a top-rated leadership keynote speaker, New York Times bestselling author, and positive psychology researcher focused on the relationship between happiness and leadership in business.
Neil is one of the most popular TED speakers with his first TED Talk "The 3 A's of Awesome" (2010) ranked as one of the ten most inspiring of all time and his second "How will you maximize your tiny, short life?" (2016) the world's first ever TED Listen, composed entirely of questions. As a leadership keynote speaker Neil has spoken to hundreds of thousands of people around the world including Fortune 100 companies, Ivy League schools, and Royal Families in the Middle East.
Neil has written five New York Times and #1 International Bestsellers including: The Book of Awesome, a catalog of simple pleasures based on his 50-million hit, award-winning blog, Awesome is Everywhere, an interactive introduction to meditation, and The Happiness Equation, a nine step guidebook to happiness based on new research. His books have been on bestseller lists for over 200 weeks and sold millions of copies.
Before leading The Institute for Global Happiness and keynote speaking, Neil spent a decade running Leadership Development and working directly for two CEOs at Walmart, the world's largest company. He was responsible for CEO onboarding, executive development, and talent management across all levels of the organization.
His work has been featured in hundreds of outlets including CNN, BBC, The Today Show, The Early Show, The Oprah Winfrey Network, Harvard Business Review, Fast Company, Fortune, and Forbes.
Neil has degrees from Queen's University and Harvard Business School and writes for Harvard Business Review and MSNBC.
He is based in Canada but travels all over the world sharing his messages. --
Topics & Categories
Business Management & Strategy
CEOs & Business Leaders
Change | Change Mgmt.
Employee Engagement
Human Resources & Workplace Culture
Inspiring Stories
Leadership
Mental Health
Morale Boosting
Motivational Speakers
Resiliency
TED Speakers
Trainers
Trust & Ethics
Virtual Presentations
Neil Pasricha Speaking Presentations:
The Happiness Equation:

Science-Backed Habits to Cultivate Positive Mindset

+
We live in a world where we're bombarded by change, expectation, and uncertainty. News media hijacks our brains while social media tells us we are never good enough. Anxiety, depression, and loneliness rates are at record highs. What we need is a splash-of-cold-water talk that is science-backed, story-laden, and full of laughs.
Based on Neil Pasricha's #1 international bestselling book, The Happiness Equation, audiences will learn how it's possible, despite larger tectonic plates they cannot control, to use specific research-backed tools and practices to cultivate a habit-based, positive mindset every day. --
Be Happy First:

Resilience and Breakthrough Performance in Times of Change

+
After Neil Pasricha's wife left him and his best friend took his own life, he crash-landed in an empty downtown bachelor apartment. Just 12 months later, he was working directly for the CEO at Walmart, running the International Academy of Digital Arts and Science's "Best Blog in the World", and had just published The Book of Awesome, which stormed the New York Times bestseller list and sold over a million copies. The lesson was clear — resilience and growth can come from challenge and change. This inspiring keynote presentation shares action-based ways to lift performance to new heights. --
The Science of

Positive Growth Mindset

+
Does great work lead to happiness? Or… does happiness lead to great work? Neil Pasricha shares counterintuitive, research-based answers in this fun, fast-paced, research-grounded tour of the emerging neuroscience and positive psychology landscape.
Pasricha will show audiences how cultivating a positive mindset results in 31% higher productivity, 37% higher sales, and 300% greater creativity — and then share how to get there. Based on fresh research that Pasricha published in Harvard Business Review, this is a high-energy, takeaway-laden talk that gets audiences buzzing. --
Lead Yourself

Before You Lead Others

+
Which company is #1 on the Fortune 500 and has been for over a decade? Walmart. The retail behemoth's rise to half a trillion dollars in sales with over two million employees has been well-documented. But what hasn't been documented is how they develop, nurture, and grow leaders up through the ranks.
Neil Pasricha served as Director of Leadership Development at Walmart and worked for the CEO while partnering with Harvard Business School to develop the first global leadership program inside the retail giant. In this talk, he shares how leaders can use science-backed practices to help themselves show up to lead teams of two, two thousand, or two million. It starts with yourself. Pasricha will show you how. --
Happy Habits:

Tiny Changes, Massive Results

+
Why do so few people say, "I love my job"? Gallup reports a whopping 79% of the global workforce is disengaged. But what if there were simple habits that could help turn employees into their most engaged, creative, and productive selves? It's not crazy talk; it's actually happening.
Using his unique blend of science-backed models and lean-in-and-laugh stories, Neil Pasricha shares simple happiness habits and, more importantly, teaches audiences how to make them stick. The result is an easy and research-backed way to build small, simple habits to help create workplaces where people show up inspired to do their best work every day. --
What Clients are Saying
Neil is a rock star! He visited the Googleplex and you could hear a pin drop while he was speaking. Everybody loved his models for living happier lives. Many people commented that he was the best speaker we have had in some time!
–Google
[More..]
Neil is a rock star! He visited the Googleplex and you could hear a pin drop while he was speaking. Everybody loved his models for living happier lives. Many people commented that he was the best speaker we have had in some time!
–Google
Neil Pasricha was a 10/5. He knocked it out of the park! Neil was so humble and easy to work with. He is super engaging and had the audience glued to his discussion. I would recommend him to anyone. He is very gracious and stayed behind to sign books and connect with people.
–Greater Toronto Area Contact Centre Association
Thank you for an outstanding key note at our Marketing Excellence event and it was such a pleasure to meet you in person. The buzz after you left was how & when we could get you back to share your message with an even broader group. You clearly struck a chord with our audience; it is rare to find a speaker that can ignite such passion and unify the audience on a common theme that transcends generation and function. Please keep writing books. Yours changed my life.
–3M
Neil has such great energy and his positivity is incredible and infectious. We've held our event for years and thanks to Neil we had the best one so far. We have nothing but great things to say!
–WestJet
Success was defined yesterday by my engaged team and 200 smiling faces around the room. Neil captured us and inspired each of us to exit the room better people then when we walked in. Grateful.
–Morgan Stanley
Very engaging, spoke from the heart, and really connected with everyone!
–American Express Global Travel
[Less..]