Candace Carnahan
Workplace Safety Advocate; Culture Change Agent; Inspirational Speaker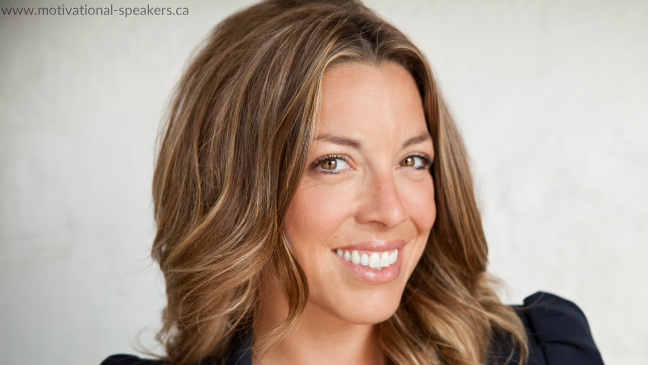 Bio
Lauded as one of the "Faces of the Future" by Maclean's magazine, Candace Carnahan uses her unique life lessons to inspire us to dismantle the roadblocks that hinder efficiency, while celebrating the attitudes and behaviors that promote success–whether personal or professional. With irrepressible energy, she taps into her own experiences to inspire audiences to realize their full potential, sharing her belief that having the "Courage to Care" through standing up for others is a transformational concept. +

The impetus behind Carnahan's contagious enthusiasm was a devastating workplace incident in which she lost her lower left leg at the vulnerable age of 21. It was an incident that might also have taken her life, but most important to Carnahan–it was preventable. As she grew aware that "tomorrow" is a guarantee for no one, she adapted quickly–mentally and physically–to mobilize herself from a potentially paralyzing situation.
Within 10 months of learning to walk with an artificial leg, Carnahan began her new journey of experience and chronicled her life's lessons as she backpacked and traveled the world. During that time, she immersed herself in a variety of cultures and gained perspective by doing so. Carnahan began to appreciate firsthand that the potential for evoking positive change in our own lives and in the lives of others on a day to day basis was not only possible, but well within reach.
Returning from her travels, Candace was transformed and felt compelled to share her story of triumph-over-tragedy, in an effort to eliminate preventable workplace injuries through her knowledge that the first step in not getting hurt is knowing that you can be. Over the years, Carnahan has compiled what she considers to be some of life's most simple but meaningful lessons, which are instrumental to her effectiveness as a speaker.
Deemed the "Prophetess of Safety", Carnahan has shared her message with over 350,000 people worldwide, and continues to expand her message to audiences across the globe. Candace is featured in awareness campaigns across North America, Australia, and Europe.
Carnahan's journey has given her a passionate voice that speaks to a wide variety of audiences and platforms. Her contagious energy promises to awaken audiences to embrace their inner strengths and power. Her personal story lends a wide range of philosophies, ideas, incentives–and humor–to audiences who are sure to be inspired to understand and achieve what they want out of life–all the while, gaining a better appreciation of the many gifts they already have. --
Topics & Categories
Change | Change Mgmt.
Inspiring Stories
Motivational
Resiliency
Women of Influence
Workplace Safety
Candace Carnahan's Speaking Presentations:
Change
Culture Change Agent
Empowerment
Health & Safety in the Workplace
Inspirational/Motivational Speaker
It Could Happen to You
Candace uses her personal story of the loss of her left leg below the knee to address the details surrounding what went wrong in her situation ... with the hope of making it right in yours. +
With her ever-present sense of humour and passion for her message, she discusses how roles played by the education system, the company she worked for, it's employees and management team, resulted in her injury. She discusses the importance in recognizing the opportunities that are constantly presented to us, in our day-to-day lives, to make a choice; safe ... or sorry.
Candace recalls the details of her incident, as well as the many contributing factors, i.e. poor leadership, lack of training, and unsafe work environment – an unguarded conveyor belt system in her case. However, Candace places great emphasis on her own role and responsibility in what happened in an effort to encourage people to "own" their right to a safe workplace. The absence of Candace's left foot is an ever-present reminder to her and her audiences that pointing fingers and placing blame will not make your limbs grow back. This truth causes Candace to place great emphasis on the importance in landing the leading role in ensuring your own health and safety.
Holding strong in the belief that "no man is an island", Candace explores how we as individuals can begin fostering positive attitudes and changing cultures within the realm of health and safety that can collectively contribute to injury reduction within our workplaces. --
The First Step

Candace has learned what she believes to be an important life lesson the hard way; 'the first step in not getting hurt is knowing that you could be.' +
Needless injuries can be avoided by simply being aware and realizing that the potential for injury exists. In her one hour presentation, Candace speaks about her typical life as a university student, working summers to pay for school in the fall, and how one step in the wrong direction changed the course of her life ... forever.
Candace's presentation explores the details surrounding the loss of her left leg below the knee, while at the same time offers education and awareness in preventing needless workplace injuries and fatalities to her audience.
Candace's energy and enthusiasm is contagious, and through her many stories, she sends a message far beyond that of workplace health and safety. Candace encourages her audience to use their education, knowledge, experience, and awareness to expand and focus on the importance of workplace health and safety within their own workplaces, homes and public places. --
The Yellow Chair

The Yellow Chair is a message that centers on the importance of hope. Candace recalls a pivotal moment in her recovery from a workplace incident that most certainly set the tone for the path she has been travelling since losing a limb. +
Candace demonstrates the roles that hope and staying positive have played in her life, and celebrates the little things in life that can lead to big changes. The Yellow Chair is a story that Candace shares with honesty and humour that will offer inspiration to all. She encourages her audience to never underestimate the power we have to speak or act in small ways which can be life changing, to themselves and others.
Candace has incorporated this inspirational aspect of her experience with loss into every presentation, and has recently begun speaking solely from an inspirational platform at various events across the country. --
See Something. Say Something!
We all know the right things to do to keep safe, so why aren't we doing them?

Candace has developed a plethora of mantras throughout her 17 years in the safety industry – but none are as powerful, effective, or as energizing as her call to action for her audience to 'SEE SOMETHING. SAY SOMETHING!' +
By referencing the many contributing factors that led to her workplace incident, she ignites a desire in her audience to answer this call.
Candace uses her own experiences, and encourages her audience to join her by 'logging into life' and actively seek out situations where speaking up changes a life for the better.
Perhaps this is reminding someone to buckle up, or simply asking someone how they are doing.
Candace believes that it's the little things done on a day to day basis that facilitate huge changes. By reminding people that until we achieve ZERO injuries, we can each do 'one thing safer' – a challenge accepted by audiences around the world.
It takes 'Courage to care!' Speaking up isn't easy, and peer pressure isn't something we leave behind when we finish high school – it's a reality in our workplaces and can cause us to remain silent when our voices need to be heard. Candace encourages her audience to tap in to their "courage to care," and to act on it, with the realization that each and every day, we all have the capacity to change a life – or maybe even save one.
Ideal for:
New and or young worker orientation and training, safety meetings, high school students, large or small safety symposiums.
Expected outcomes:
Reduction in recordable injuries, a safety-focused, empowered, cohesive and engaged student body/workforce. --
Candace Carnahan is represented by K&M Productions. To inquire about Candace Carnahan's speaking schedule, fees & booking safety speaker Candace Carnahan contact us.
What Clients are Saying
Candace delivers a message with such positive passion and enthusiasm that we could not help but be both affected and motivated. Candace was a definite factor in the success of the conference, and for that we are grateful.
–Hydro One
[More..]
Candace delivers a message with such positive passion and enthusiasm that we could not help but be both affected and motivated. Candace was a definite factor in the success of the conference, and for that we are grateful.
–Hydro One
We appreciate Candace contributing to BASF Petrochemical's Day Away for Safety. Candace's testimonial was touching and engaging for everyone in the organization. Her story was a reminder that accidents affect the entire community and not just the people at the plant.
–Leslie A. Thomson, Senior Communications Specialist, Petrochemicals, BASF
Candace has a compelling safety message that has resonated very well with many of our summer students. OPG has worked with Candace through "Passport to Safety" for the past 4 years. OPG requires all students to complete the Passport to Safety quiz, and we offer this training to friends and family members of OPG employees. This is an important vehicle to teach basic safety awareness to as many young people as possible, whether they work for OPG or not.
–Ontario Power Generation
Candace spoke at our manufacturing facility to 600 + employees and had a tremendous & immediate impact on each and every person. She clearly passes on the message we want to improve safety in our plants in a way that very few can.
–Scott Gray, Site HS&E Leader, Procter & Gamble, Brockville
Many speakers can educate audiences through a deep understanding of workplace health and safety, but few can strike the same emotional chord through retellings of personal tragedy and triumph as Candace can. Simply put, she is in a class of her own.
–Gerard Adams, WorkSafeNB President & CEO
Candace Carnahan has the ability to convey a serious message about workplace safety through storytelling that is light-hearted and poignant. In sharing her experiences at Hydro Ottawa, she skilfully communicated the important role that each of us plays in ensuring that our workplaces and communities stay safe. She is extremely passionate about ensuring that we each speak up and take action to prevent workplace incidents.
–Bruce Lang, Manager, Safety and OHSE Management System, Hydro Ottawa
[Less..]