Fee Range
PGgzPkZlZSBSYW5nZSBmb3IgQ2FuZGFjZSBDYXJuYWhhbjwvaDM+PHA+JDEwLDAwMSAtICQxNSwwMDAgPC9wPg==
Request More Information

Candace Carnahan
Workplace Safety Advocate; Culture Change Agent;
Inspirational Speaker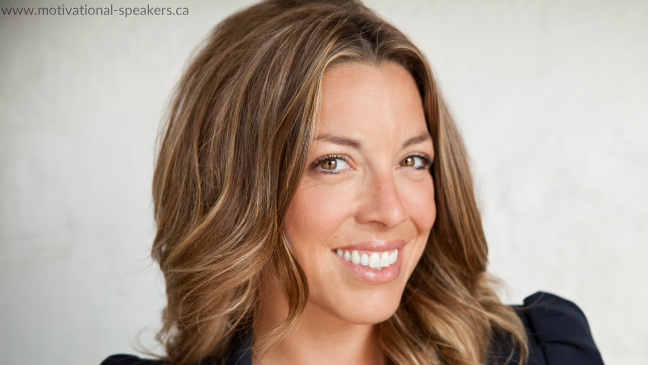 Bio
Candace Carnahan believes sharing stories saves lives. Lauded as one of the "faces of the future" by Maclean's magazine, Carnahan relates her unique life lessons to the challenges, obstacles, and goals of the organizations she works with to inspire audiences to put caring into action. She helps people understand that they can and should take the lead with their own well-being, and challenges people to think about safety as an opportunity, not an obligation. With irrepressible energy, her transformational talks leave audiences motivated and poised for change.
Carnahan's path as a speaker resulted from a devastating workplace incident in which she lost her leg at the age of 21. It was an incident that could have taken her life, and it was completely preventable. Since that day more than 20 years ago, Carnahan has continually challenged herself, both personally and professionally. Outside of her work she has taken the road less-travelled — literally — including trekking the 500-mile Camino de Santiago.
With nothing more than a microphone and a breadth of stories, Carnahan captivates. She is just as at home on conference stages as she is on offshore rigs, or production facilities — anywhere employees are making decisions about their safety. More than half a million people worldwide have already experienced Carnahan's keynotes and sessions, and she is constantly finding ways to connect and provoke real change in attitudes. Her mantra "See Something. Say Something" ends each of her talks, leaving her audiences ready to ignite the "courage to care", to act, and to be safe.
Bringing a unique approach to companies tackling their biggest challenges around safety, Carnahan changes the way people and companies think. She has shared her message with companies across the world, including Weyerhaeuser, ExxonMobil, and BASF.
Topics & Categories
Change | Change Mgmt.
Inspiring Stories
Mental Health
Motivational Speakers
Resiliency
Virtual Presentations
Women of Influence
Workplace Safety
Virtual or Live Presentations:
Bridging the Gap: Exploring the Connection Between Psychological and Physical Safety +
The relationship between our psychological and physical safety is being recognized, addressed, and appreciated now more than ever before.
Mental health challenges have always existed, however we are living and working in a world where discussions around these issues are being released from the shackles of stigma.
We have a clear understanding that tending to our state of mind to protect our state of being is no longer a "nice idea for some" — it's imperative to all.
Consider this:
How will we find the courage to exercise our rights in the workplace if we arrive feeling mentally defeated? We won't.
How can we be expected to speak up when something is happening that doesn't feel right or safe, when we don't feel respected or included in our workplace? We can't.
How do we identify physical hazards in our workplace when our heads are swimming with thoughts that are distracting us from being present and maintaining the focus required to work safely? We don't.
Through "Bridging the Gap", we explore these questions, while shining a light on the non-physical elements that are essential to a safe and healthy workplace.
Topics include:
Mental health
Psychological safety
Respect
Invisible injury
Empowerment --
The First Step +
Candace has learned what she believes to a crucial life lesson the hard way: 'The first step in not getting hurt is knowing that you can be.' She believes that avoiding needless injuries through day to day life and activities can be achieved just by simply realizing that the potential for injury exists.
Candace challenges the "invincibility factor" which, for her, is the most troubling hazard facing working youth – the belief that injuries won't happen to them. In her one hour presentation, Candace speaks about her typical life as a university student, working summers to pay for school in the fall, and how one step in the wrong direction changed the course of her life forever.
Candace's energy and enthusiasm is contagious, and through her many stories, she sends a message that reaches far beyond that of workplace health and safety. Candace encourages her audience to use their education, knowledge, experience, and awareness to expand on the importance of safety within their day to day lives. Candace inspires her audiences to 'stand up for safety' (both figuratively and literally) and to 'say something' when they 'see something.' --
It Could Happen to You +

Candace believes that "The first step in NOT getting injured is knowing that you CAN be."
Her unimaginable experience dispels the myth that we are invincible; what you don't know, in fact, can hurt you – lessons Candace learned the hard way.
Candace shares her very personal account about the day that changed her life forever, after suffering the loss of her lower left leg to an unguarded conveyor belt system.

With her ever present sense of humour and passion for her message she emphasizes that when an injury happens, there is rarely only one cause or contributing factor – emphasizing the countless opportunities to intervene in the name of safety.
In guiding audiences through her fateful day, she recounts her thoughts or 'distractions' and talks about her then subconscious belief that nothing "bad" could ever happen to her.
Candace's presentation focuses on identifying the many contributing factors (insufficient training, unguarded machinery, unsafe culture, etc.…) that led to her injury, while assuming responsibility for her own role in the incident.
Candace encourages people to take a leading role in their own health and safety! Encouraging them to embrace, and even celebrate, their right to an injury-free and healthy environment.
Combating complacency, and encouraging people to "focus on focus!" are key components to Candace's message. Her story is a reminder that safety isn't 9-5 – rather, it's a state of mind, an attitude that we must carry with us throughout our day to day lives. --
The Yellow Chair +
The Yellow Chair is a message that centers on the importance of hope. Candace recalls a pivotal moment in her recovery from a workplace incident that most certainly set the tone for the path she has been travelling since losing a limb.
Candace demonstrates the roles that hope and positivity have played in her life, and celebrates the little things in life that can lead to big changes. The Yellow Chair is a story that Candace shares with honesty and humour that will offer inspiration to all. She encourages her audience to never underestimate the power we have to speak or act in small ways which can be life changing, to themselves and others.
Candace has incorporated this inspirational aspect of her experience with loss into every presentation, and has recently begun speaking solely from an inspirational platform at various events across the country. --
Returning Safely to Work +
Cities and workplaces have begun the process of reopening, which means many workers are returning to physical jobs where there are new concerns around safety because of COVID-19. That means now is a great time to revisit the importance of a building and maintaining a culture that ensures a safe and healthy workplace.
Candace Carnahan has long been an advocate of workplace safety, following the incident that resulted in the loss of her leg. With her ever-present sense of humour and passion, she uses her personal story to show how roles played by the education system, the company she worked for, it's employees and management team, resulted in her injury. She discusses the importance in recognizing the opportunities that are constantly presented to us everyday to ensure we all work towards the goal of safety at work.
Carnahan explores how individuals can foster positive attitudes and cultural change, and how, by working together, we can carefully navigate our new normal and work together to keep everyone safe as the pandemic continues. --
To inquire about Candace Carnahan's speaking schedule & booking safety speaker Candace Carnahan contact us.
What Clients are Saying
Candace delivers a message with such positive passion and enthusiasm that we could not help but be both affected and motivated. Candace was a definite factor in the success of the conference, and for that we are grateful.
–Hydro One
[More..]
Candace delivers a message with such positive passion and enthusiasm that we could not help but be both affected and motivated. Candace was a definite factor in the success of the conference, and for that we are grateful.
–Hydro One
We appreciate Candace contributing to BASF Petrochemical's Day Away for Safety. Candace's testimonial was touching and engaging for everyone in the organization. Her story was a reminder that accidents affect the entire community and not just the people at the plant.
–Leslie A. Thomson, Senior Communications Specialist, Petrochemicals, BASF
Candace has a compelling safety message that has resonated very well with many of our summer students. OPG has worked with Candace through "Passport to Safety" for the past 4 years. OPG requires all students to complete the Passport to Safety quiz, and we offer this training to friends and family members of OPG employees. This is an important vehicle to teach basic safety awareness to as many young people as possible, whether they work for OPG or not.
–Ontario Power Generation
Candace spoke at our manufacturing facility to 600 + employees and had a tremendous & immediate impact on each and every person. She clearly passes on the message we want to improve safety in our plants in a way that very few can.
–Scott Gray, Site HS&E Leader, Procter & Gamble, Brockville
Many speakers can educate audiences through a deep understanding of workplace health and safety, but few can strike the same emotional chord through retellings of personal tragedy and triumph as Candace can. Simply put, she is in a class of her own.
–Gerard Adams, WorkSafeNB President & CEO
Candace Carnahan has the ability to convey a serious message about workplace safety through storytelling that is light-hearted and poignant. In sharing her experiences at Hydro Ottawa, she skilfully communicated the important role that each of us plays in ensuring that our workplaces and communities stay safe. She is extremely passionate about ensuring that we each speak up and take action to prevent workplace incidents.
–Bruce Lang, Manager, Safety and OHSE Management System, Hydro Ottawa
[Less..]