Scott Burrows
Change, Motivation & Transformation Speaker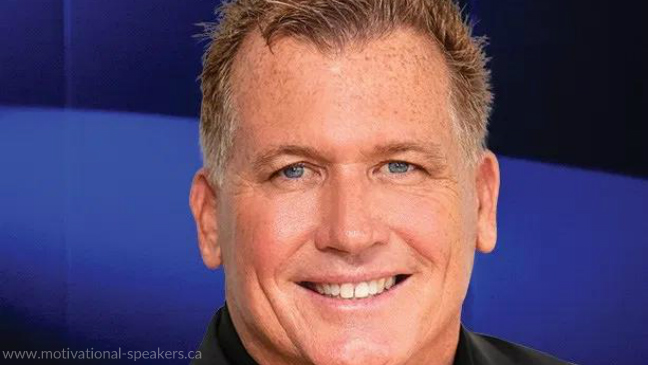 Bio
Growing up, Scott Burrows had a promising future in professional sports. He earned a black belt in kung fu, fought in an ESPN broadcast kickboxing match, and played college football. All of that came to a sudden end, however, when he was involved in a tragic accident that permanently paralyzed him from the chest down. Despite his difficult circumstances, Burrows made the decision to thrive. An expert speaker on transformation, he motivates audiences to stand up to their challenges and keeping a positive attitude to succeed. +

A wheelchair athlete and the founder of Global Golf Group, a business that markets custom blended fertilizers to golf courses, Burrows is also the author of Stand Up to Your Challenges and the co-author of Conversations on Success.
Burrows has presented to hundreds of associations and corporations North America and internationally to clients including Great West Life, IDERAC Media, Nationwide Insurance, and Lincoln Financial Group. --
Topics
An incredible story of beating the odds after being paralyzed from the chest down. You'll be more than inspired if you book Scott for your event. You'll want to learn how the strategies of Vision-Mindset-Grit when put into action can create extraordinary results regardless of the challenges standing in front of you at home, in your work and marketplace!
Scott's Most Requested Topic Areas:
Motivation

Inspiration

Peak Performance

Leadership

Change

Accountability

Overcoming Adversity

Success

Goal Setting

Diversity

Safety in the Workforce
Scott Burrows' Speaking Presentations >>>
Signature Keynote Presentation:
Vision Mindset Grit
(up to 75 min.)
Our world continues to change at the fastest rate in human history. With the expanding capabilities of technology like smart phones, social media and mobile apps, the economy is ever-changing, as are the workforce, the marketplace and your competition. If you are unwilling to adapt and be more flexible, beware—chances are you will be left behind. +
With unparalleled credibility, Scott Burrows gives audiences the tools they need to stand up and conquer any challenge in both their professional and personal lives. He will encourage them and show them how to accept change and difficulties, revealing how to embrace adversity in order to persevere. Scott will instill in them the belief that they can indeed achieve all that they aspire to regardless of circumstances.
Scott's compelling story of tragedy and triumph is the backdrop to this presentation, providing what will be an unforgettable and lasting memory. He'll inspire and motivate audiences to live purposefully while applying the same timeless principles that have helped him overcome incredible obstacles: Vision-Mindset-Grit. This dynamic and thought-provoking presentation—told while using his own physical paralysis as a metaphor and blending eloquent storytelling and humor—leaves audiences spellbound and wanting more.
As an all-star athlete, Scott played college football at Florida State University and was a top-ranked kickboxing Black Belt champion whose last fight was broadcast by ESPN. At the peak of his athletic career, he survived a devastating car crash, suffering a serious spinal cord injury that left a diagnosis of quadriplegia and the complete reinvention of his life. To thrive, beat the odds and achieve extraordinary results both personally and professionally, he learned to harness a clear VISION, a determined MINDSET and unstoppable GRIT. These three simple words, with so much meaning and impact behind them, can empower any person or organization when put into action!
As Scott's clients will tell you, audiences are intensely captivated as they absorb how the most overwhelming of setbacks can be converted into success, fulfillment and personal realization—as long as they never give up.
Learning Objectives:

Vision
Learn how to create a compelling Vision that empowers you to take action
Examine what it means to dream in full color
Discover the impact of connecting your organization to a shared Vision and set of core values
Understand how to imprint your Vision to separate you from your competition
Find out how Visualization can encourage you to stretch beyond your comfort zone as well as any self-perceived paralyzing limitations
Mindset
Learn how to create an unstoppable Mindset
Examine adapting strategies that will help you thrive in a changing world and build a winning culture of accountability
Discover transformational techniques to not letting your Mindset become your biggest handicap during the tough times
Understand how the power of forgiveness, a leadership trait, can restore hope and lead to greater organizational productivity
Find out how "Anything is Possible" if you are willing to "Break the Fall Line"
Learn that asking "What Questions" during times of adversity, keeps you moving forward into your future
Grit
Learn how to find your passion to persevere and to execute during times of change
Examine why your willingness to fail, but your unwillingness to quit as an organization can help you achieve extraordinary results even in today's ultra-competitive world
Discover how to tap into your inner strength and stand up to any challenge
Understand how by taking meaningful risks and being resilient in your pursuit can turn impossibilities into possibilities
Cultivate ways to unlock your Grit --
Think Outside the Moment
(Up to 60 min. Interactive Breakout)

Feeling scared, vulnerable and overwhelmed are inevitable—and inescapable—traits of the human condition, whether at work, at home or in other social environments. In this lively, engaging session, Scott Burrows helps audience members root out the causes of those anxieties and learn from each other how to Think Outside the Moment to fight such fears for a more productive, enriching life. +
Through careful guidance and an inspiring approach, Scott digs deep into the vulnerabilities and dynamics of the group for a unique session where everyone gets involved and everyone leaves with new skills and coping mechanisms built around his empowering concepts of Vision-Mindset-Grit.
Audiences discover the answers to 2 pivotal questions:

1. What is your Vision? What are you now fighting for going forward in both your personal and professional life?

2. Who is willing to hold you accountable?
Everyone involved will develop:
A clear Vision
A determined Mindset to adapt and be more flexible than ever before to any uncomfortable situation
Unstoppable Grit to stand up tall and perform regardless of their comfort zone
Please Note:

This is a session that encourages everyone to get involved. They will be asked to stand up in front of their peers and engage in conversation with Scott, and at times, with others. Therefore, multiple microphone and runners may be needed depending on the audience size. --

Scott Burrows is represented by K&M Productions. To inquire about Scott Burrows' speaking schedule, fees & booking Scott Burrows, contact us.

What Clients are Saying
Our members were truly blown away by his moving narrative of overcoming adversity with determination, grit, humor, and the support of loved ones. We were all uplifted and inspired.
–Raymond James & Associates
[More..]
Our members were truly blown away by his moving narrative of overcoming adversity with determination, grit, humor, and the support of loved ones. We were all uplifted and inspired.
–Raymond James & Associates
No doubt the two standing ovations you received indicated the intensity of your talk. This is just what the doctor ordered to maintain our motivation and momentum.
–President, John Hancock
I heard you speak last year and hung on to every word you said and still can't get the presentation out of my mind.
–Nationwide Insurance
What really confirmed you were the right choice for this sales and marketing conference was your ability to take the information you gathered in our pre-meeting call and weave it seamlessly into your message, which made it relevant to each and every person in the room. You really hit a home run!
–GE Healthcare
Very inspirational, motivational and the way he presented it gave me goose bumps. I was emotional and crying at times!
–Two Men and a Truck
Thank you so much for sharing your story with me and the team. I know it has made a difference in how we look at our business and life challenges ... We do it with Vision, Mindset and Grit!
–BMO
I wanted to thank you for your fabulous contribution to our Bermuda conference. Your presentation was tremendous and your story touched each and everyone in our audience.
–Great West Life
[Less..]