Fee Range
PGgzPkZlZSBSYW5nZSBmb3IgTGF1cmllIFNrcmVzbGV0PC9oMz48cD4kMTAsMDAxIC0gJDE1LDAwMCA8L3A+
Request More Information

Laurie Skreslet
First Canadian to Summit Mount Everest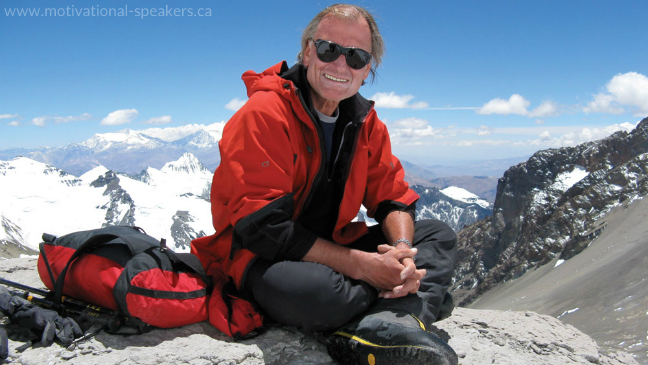 Bio
On October 5, 1982, Laurie Skreslet became the first Canadian summit Mount Everest. Since then, he has gone on to inspire countless others to "climb their own mountains" to reach their best, overcome fear of the unknown, and reach beyond their self-imposed limits. In his riveting presentations, Skreslet tells the story of his climb and, replete with spectacular multimedia visuals, conveys how preparation, team work, and dedication were essential to his success. +
In the summer of 1982, 21 Canadian mountaineers set off for the Nepal Himalayas to attempt the highest mountain in the world. The expedition had taken five years to plan, three million dollars to fund, and 27 tons of equipment. As Everest expert Geoff Powter put it in Saturday Night magazine, "Climbing Everest is an accomplishment. But there is climbing Everest―and climbing Everest."
Skreslet appeared in CBC Television's "The Climb", a documentary revisiting the triumphs and sorrows of the historic 1982 Canadian Mount Everest Expedition 25 years later. In 2008, Jason Priestley and William Shatner starred in the CBC's two-part mini-series "Everest" based on the expedition.
Over the years, Skreslet has participated in more than 30 world-class expeditions into the Canadian Rockies, Nepal, South America and India. His bestselling book, To the Top of Everest, was nominated for the Children's Choice Award and the Canadian Book of the Year for Children Award in 2004. --
Topics & Categories
Adventurers & Explorers
Change | Change Mgmt.
Motivational Speakers
Performance & Productivity
Resiliency
Risk & Risk Management
Team-Work & Collaboration
Virtual Presentations
- Personal & Team Excellence
- Climbing Your Own Mountains of Endeavor
- To the Top of Everest
On October 5, 1982, Laurie Skreslet became the first Canadian to reach the peak of Mount Everest. His lifelong dream of scaling the world's tallest mountain had become a reality, but it was an achievement that came with a heavy price. Laurie and his expedition faced hidden crevasses, blinding snowstorms, horrible altitude sickness and deadly avalanches that claimed the lives of team members throughout the ascent.
In this exciting true-life adventure, Laurie shares intimate details from the climb itself, including the terrifying moment when he almost plunged to an icy death. A true hero, Laurie proves that with a bit of courage, a little faith and a lot of teamwork, an ordinary person can accomplish extraordinary things.
Laurie incorporates the following themes into his presentations:
Teamwork
Leadership
Motivation
Succeeding in Business
Adventure & Exploration
Dealing with Challenge(s)
Adapting/Coping with Change
Personal & Team Excellence
Laurie Skreslet is represented by K&M Productions for speaking engagements. For more information & booking Laurie Skreslet contact us.
What Clients are Saying
We have had different speakers over the years, who were excellent, but YOU WERE RATED THE HIGHEST.
–McDonald's Restaurants of Canada
[More..]
We have had different speakers over the years, who were excellent, but YOU WERE RATED THE HIGHEST.
–McDonald's Restaurants of Canada
Your presentation to the group was nothing short of fantastic! You made it relevant to our business while taking everyone on your journey to the summit. You truly made the conference the success it was because of your inspiring and 'real' style.
–Fidelity Investments
Laurie was absolutely outstanding - clearly someone who not only has worked to achieve the exceptional in his own life but also has the linguistic skill and ability to communicate that philosophy to his audience.
–Canada Life
You exceeded our expectations in every way. I would not hesitate to recommend you as a motivational speaker for any conference. It was a pleasure to have met you and I wish you continued success in the future.
–Rural Economic Opportunities Conference
Thank-you for your most inspiring presentation. Our sales team was captivated by your enthusiasm and your unique ability to associate your experience with our business environment. Presentations this profound are rare.
–Novartis
[Less..]