Kate Davis
Humour in the Workplace Speaker | Work–Life Balance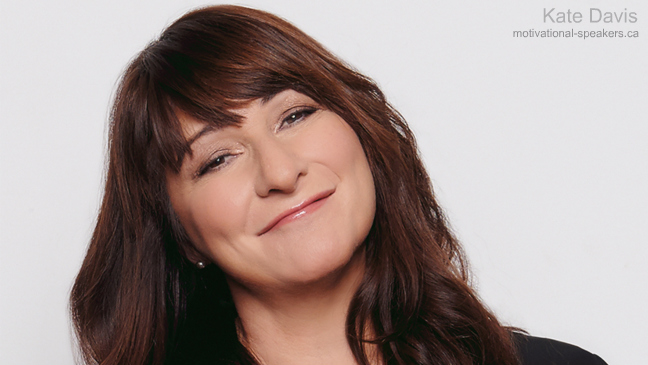 Bio
Speaker Kate Davis has the unique ability to find humour in any situation and offer creative solutions to defuse frustrations in both the workplace and at home. A five-time nominee for the Canadian Comedy Awards who has opened for the likes of Bill Clinton and Barbara Walters, as well as the star of many television comedy specials, Kate's generous insight and hilarious presence is a powerful combination in helping organizations empower their staff with effective tools for managing stress and sustaining motivation.+

A 12-time Canadian Comedy Awards nominee, which includes a nomination for the prestigious Phil Hartman Award, Kate was also the star of her own hour-long comedy special on CTV and the Comedy Network. Additionally, she has appeared on Breakfast Television, Star TV, Toronto 1, Prime, WTN, TVO and CBC Radio's The Debaters.

On stage, Kate has performed at the Winnipeg Comedy Festival, Just For Laughs, and the Hubcap Comedy Festival. During the 2008 season of Last Comic Standing, Kate's sense of humour endured and carried her into the finals in Canada. She has also just filmed an episode of Rogue for The Movie Network.

As a writer, Kate has been published in Today's Parent and Mom and Caregiver magazines. Kate's first book, The Breast Feeding Diaries, won the iParenting media award.

Kate has also performed and lectured for organizations such as the YPO, YEO, Canadian Management Centre, BDO, DFK, Sunnybrook Hospital, OHA, RBC, the Faculty of The University of Toronto and many more. --
Topics & Categories
Comedy & Humour
Health & Wellness
Humour & Variety
Mental Health
Motivational
Resiliency
Stress Management
Women of Influence
Work-Life Balance
Out of My Mind… Back in Five Minutes: A Journey from Depression to Expression
Through sharing her inspiring, humorous and touching personal journey, Kate Davis provides audiences with techniques and practical tips to manage their mental health and stay healthy and positive even through the toughest times. +
Davis shows audiences how she went from depression to expression, sharing how comedy helped her discover her self-worth, confidence, and how to fight the negativity in her own mind that kept her from living the life she deserved.
"Back in Five" explores the way we feel about ourselves and others, as well as our ability to manage our feelings and deal with everyday difficulties. From practical methods like one-minute stress strategies or breaking up the monotony with Rejuvenation 101, to the methods available to us for taking charge of our own mental health including how we think about ourselves, being grateful, being in the present, sleep, diet, exercise, etc. All these methods can ultimately boost our mood, build resilience, and add to our overall enjoyment of life.
Audiences will leave this keynote with the feeling that knowledge is power and that we all play a role in managing our mental health. --
MIND OVER LAUGHTER

Kate Davis explores how mindfulness through humour can help us achieve the kind of self-awareness that has the power to affect all areas of our lives in a positive manner. By focusing on the present moment and therefore letting go of negativity we are able to be more present to the life we are in and that is how we expand and create affirmative change. +
Kate teaches practical methods of how to achieve mindfulness through an entertaining, funny journey that leaves her clients with authentic ways of getting in touch with oneself through visualisation, playfulness, and storytelling.

For over a decade, Kate has explored techniques of how lightening up and practising mindfulness can create a more balanced life both at home and the workplace and create a positive "mind environment" which affects all areas of our life and keeps us healthy. --
CONNECTIVITY

In "Connectivity," Kate Davis shows the audience how to establish, cultivate, and keep connections that lead to productivity and success both in business and our personal lives. +
Whether it's a CEO connecting with their staff, a client connecting with their customer, or departments connecting with other departments, good communication and rapport within an organization is the source of a flow that leads to creativity, quick resolutions, and a deeper understanding among staff of the overall business purpose. Staying connected to colleagues keeps things on track and is one of the most important elements to an organization's success. --
BALANCING LIFE WITH HUMOUR
We Are All Jugglers and the First Ball to Drop is Usually Our Own

Kate Davis has the unique ability to find humour in any situation and to offer creative solutions to defuse the frustrations in the home and workplace. Kate's generous insight and outspoken character, provides a powerful combination to help organizations empower their staff with effective tools for managing stress and sustaining motivation. +
Between our jobs, home, relationships with family, friends and co-workers learning how to balance our busy life demands a strong sense of Personal Development and most importantly a Sense of Humour. People, who attend Kate's "Balancing Life with Humour" lecture, leave with an understanding of practical techniques for refueling, rediscovering and reengaging their true selves. Learning to use humour as an instrument of communication creates an atmosphere of compassion, caring and productivity. Kate has spoken at such conferences as the YPO Banff conference, the Ontario Coalition of CAPC/CPNP Projects, the YEO, CMHC, University of Toronto Faculty, Teachers Pension Plan and many more. --
FUNNY MOMMY™ PARENTING WITH HUMOUR LECTURE AND WORKSHOP
Your Leisure Time Should not be Folding Laundry.
This lecture/workshop gives parents, caregivers, educators, social service providers the tools to help defuse the chaos and stress of their lives through humour. Kate helps them to remember themselves, accept where they are and not feeling guilty about where they are not. It combines stand-up comedy with practical techniques to raise children. +
"Fun cancels out stress and brings everyone into the moment." This is the recipe for a healthy relationship when it comes to raising our children. Everything changes when we become parents, I think the show "Survivor" shouldn't take place on an island but a new parents' home. It's challenging not losing yourself in the process but with a few techniques likes being more playful and using your intuition life can be more joyful and relaxing.

Discover the different ways that men and women deal with stress, techniques of dealing with sibling fighting and how to truly take care of yourself so you are able to be more present to the life you are living now.

This lecture blends techniques of improvisation, visualization and affirmations. Parenting is a great lesson in letting go. You give birth, you let go. You nurse, you stop, you let go. They start school you, let go. They move out, you let go. That lesson of "Letting Go" is way easier with you in tacked.
Kate has spoken for such groups as Mom's Net, Hadassah-Wizo Organization of Canada, Opportunity for Advancement (United Way), Bell High school Faculty just to name a few. --
STAND-UP COMEDY
Kate's comedy career started as a need to get out of her house. So one night after putting the kids to sleep she ventured into a local comedy club and never looked back! +
Now, a five-time nominee at the Canadian Comedy Awards and star of her own hour-long comedy special on CTV and the Comedy Network, Comedy Now. Kate headlines across the country and is a favorite at corporate events. Kate's corporate career has allowed her the opportunity to host events for the former President, Bill Clinton, Barbara Walters and many others. She has also proven that funny can raise money and does many charity events for organizations that help teens and kids.
She has appeared on Breakfast Television, The Mike Bullard Show, The Toronto Show, Star TV, Toronto 1, Prime, WTN, TVO, CBC Radio One "The Debaters" The Hubcap Comedy Festival, Sudbury Comedy Festival, Cirque Eso Tours and The Mom Show.
She made it to the final round in Toronto for "Last Comic Standing" 2008 season and just recently in Toronto for NBC's Stand up for Diversity. --
Kate Davis is represented by K&M Productions for speaking engagements. For more information, Kate Davis' speaking schedule, fees & booking Kate Davis contact us.

Testimonials
Kate was absolutely phenomenal. We had many comments that she had us belly laughing and the best motivational speaker they have seen in a long time, if ever.
–Ontario Health Information Management Association
[More..]
Kate was absolutely phenomenal. We had many comments that she had us belly laughing and the best motivational speaker they have seen in a long time, if ever.
–Ontario Health Information Management Association
We absolutely loved Kate's presentation at both of our sites. She was personable and easy-going in our chat prior to the formal keynote address. I appreciated her relaxed approach when we were unable to provide both types of microphones at each site!! She truly practices and demonstrates what she "preaches" in her talk – taking everything in stride and LAUGHING about life's ups and downs. We received great feedback from both audiences and I was really quite pleased with the events from beginning to end. I would highly recommend Kate!!
–William Olser Health System
Kate is lovely. She arrived early – stayed until the end – was bubbly and professional. Her presentation was excellent. High energy. Funny. Great messages for being positive. Lots of laughter in the audience. It was a highlight for many as the evening is quite dull with so many awards being presented.
–Halton Healthcare Services
…in no time had us all giggling and laughing. Her subject matter fit perfectly with the age and diversity of our group.
–Canadian Tire
[Less..]