Kevin Graff
Retail Performance & Consumer Trends Expert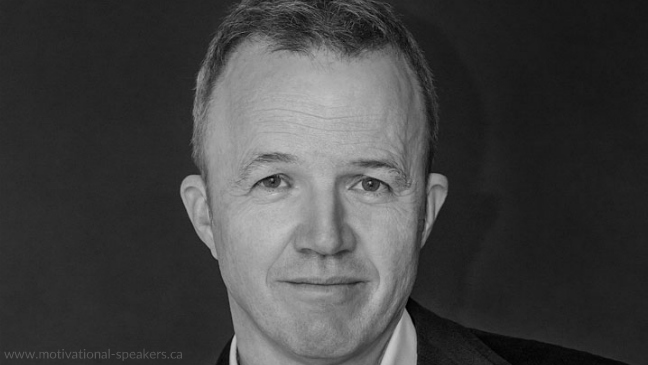 Bio
How much in potential sales is walking out your door every day, untapped? Internationally recognized retail authority Kevin Graff has spent more than 20 years working with leaders to maximize sales and drive revenue "over the top." Focussing on improved staff performance, his enthusiasm, direct style, and action-oriented improvement plans address the key concerns in today's retail environment. +

Graff is the author of Selling With Passion and co-author of Winning Retail. He uses his extensive experience to design customized keynotes and training programs that work effectively with the needs of his audiences and clients. Home Hardware, Costco, Benjamin Moore, and Danier Leather are just some of the retailers that Graff has impressed to date. --
Topics & Categories
Business Management & Strategy
Customer Service & Loyalty
Employee Engagement
Leadership
Marketing & Branding
Performance & Productivity
Retail
Sales & Service
Trainers
CREATING A SUSTAINABLE SALES CULTURE
It's all the rage. A Sales Culture. Everyone wants one. More importantly, everyone needs one. With the competition levels increasing, retailers need to maximize the potential of every customer visit. Instilling a sales culture, one that lives every day in the stores, is the most important task in front of retailers today. Why is this so critical? Simple. It means the difference between selling very little ... and selling a lot! +
Discover how you can build a sustainable model that becomes part of the daily culture in your business;
Learn why most initiatives don't work, and how successful retailers have put sales cultures into place that work;
You'll see how the process of integrating programs, systems and operations together creates a fool-proof web built for success;
At the centre, you'll find the simple but powerful system that ensures everyone in your company is maximizing the revenue potential in your stores;
Most important, you'll walk away with a blueprint for building a sales culture that will give you the results you need. --
GET YOUR SALES STAFF TO ACTUALLY SELL
How much money is walking out your door every day?
Customers come and go, but are you really maximizing the sales potential of every transaction? The reality is that you can, and will, improve your sales performance when you succeed at creating a selling culture in your stores. The objective of this program is very straightforward: Increase your store sales through improved staff performance. You hired them to sell, so let's get it done! We'll introduce The 5 Foundations needed to create a high performance selling culture. +
Maintaining a focus on goals and expectations;
Tracking the right information ... and sharing results;
Holding your staff accountable for performance;
Ongoing Training and Coaching;
Supporting / Celebrating the sales process.
Your audience will take back to their stores a powerful plan of action to that is certain to drive results. They'll laugh, be engaged and prove to themselves that they can and will sell more.
Get ready to sell more. --
GET YOUR STAFF ENGAGED ... And GET BETTER RESULTS
You can't pick up a newspaper these days without reading about Employee Engagement. Studies say it can improve productivity in your stores by as much as 40%! So, there must be something to this 'engagement' thing, right? +
Well, hold on tight because this seminar will look at what we've discovered you can do to 'engage' your employees and in the process actually get them to care about what they're doing, while doing a better job of it too! Best of all, our approach applies to both the 'young kids' you have on your sales floor and the 'experienced hands' too.
You'll walk away with a blueprint to drive employee engagement and learn what the best employers are doing to ensure their staff stay on board and stay productive.
Get ready to get better results. --
GET ON BOARD - THE HOTTEST RETAILING TRENDS
Do you know about the hottest retail trends and which retailers are the biggest winners today?
Are you prepared to not only deal with them but to profit from them as well? This seminar looks at the fastest growing and most successful retail trends in the marketplace. It also examines how you can guide your store to profit from these trends. Trends are driven by consumers, and the best retailers have learned to not only listen to them but to anticipate where they are heading. We'll share with you countless of examples of how retailers riding the hottest trends all the way to the bank. Get ready to be enlightened.
GET SERIOUS ABOUT SERVICE ... YOUR CUSTOMERS ARE!
There's one very simple, but challenging thing that differentiates good retailers from great retailers. SERVICE.
And if you think customers are demanding now, just wait! When it comes to the customer's shopping experience, their expectations keep getting higher and higher. Life for your front line staff is about to get more difficult - and more demanding. Learn the essential rules of the game, from the customer's perspective. Then, listen and discover seven practical steps you can take right NOW to make a tangible and sustainable difference in your stores. This isn't rocket science - but the results are just as amazing! Filled with many funny stories and real life examples, you'll laugh and discover what you should have been doing all along. Get ready to WOW a few more customers every day.
GET IT RIGHT ... EXECUTING YOUR PLANS FLAWLESSLY
Welcome to the 'plague' for most retailers and suppliers alike ... executing those brilliant plans that get launched every month. When it comes to working together it can often seem like an "us vs. them" scenario. Whether it's a supplier 'battling' the retailer or the merchandising department 'wrestling' store operations, this often becomes an exercise in frustration that leads to poorly executed plans. It doesn't have to be this way. +
Here's some of what we'll share with you:
7 key things you need to put in place to succeed at executing your plans every time;
Identifying the most common reasons why plans fail ... from the side of the front line, supplier or internal department;
A Store Manager's "Wish List" for those designing plans that they need to execute.
You'll leave with greater confidence in your ability to execute plans and with a game plan for ensuring you can implement them flawlessly, every time. Get ready to get it right. --
GET COMPLIANCE or GET OUT OF THE GAME!
It's shocking! The lack of compliance on basic store standards is ruining the shopping experience for your customers. It's also costing you thousands of dollars each year in lost sales, higher employee turnover rates and added expenses. It doesn't have to be that way. +
Yes, this keynote will shake your audience by the lapels at times, but if you're suffering from non-compliance, it's time they wake up! Your team will be given a straightforward plan that will help them gain the compliance they need on standards. While achieving compliance on standards is a tactical matter, the truth is that having the right mindset is far more critical in determining whether or not you'll get compliance or not. Get ready to get better performance. --
THE RETAILER'S GUIDE TO A SUCCESSFUL CHRISTMAS
This seminar is jam packed with practical ideas that focus on increasing your sales and profits during the Christmas season. By simply combining 5 or more of these ideas, you are guaranteed to increase your sales and profits. +
Here's some of what you'll learn:
Maximizing Your Sales Through Personal Selling: A detailed look at selling strategies specifically designed for the hectic Christmas season and how you can sell more to every customer!
Getting The Most Out Of Your Staff: Learn how to motivate your staff through the use of goals and the right work environment. Plus, discover how to get maximum benefit from your staff schedules.
Driving Sales Through Your Inventory: We'll examine the critical techniques necessary to manage your inventory at Christmas. Successful retailers are masters at planning and managing their product. Learn how to get more revenue and margin from your inventory decisions.
Bringing Customers To Your Doorstep: Simple, effective marketing techniques that are designed to get you the traffic you want.
Strategic Visual Display: Discover how to maximize your sales by merchandising your store for top results.
Building Your Action Plan: Create a list of results driven ideas that will work for your business and then committing to them so you'll have your most successful Christmas ever! --
Kevin Graff is represented by K&M Productions. For more information, fees & booking Kevin Graff, contact us.
What Clients are Saying
Kevin's program achieved an immediate increase in membership revenue. He has a unique ability to deliver a program with charismatic fervor that keeps his audience's attention. I wouldn't hesitate to recommend him to any company.
–Costco Wholesale
[More..]
Kevin's program achieved an immediate increase in membership revenue. He has a unique ability to deliver a program with charismatic fervor that keeps his audience's attention. I wouldn't hesitate to recommend him to any company.
–Costco Wholesale
The work you do is amazing and I commend you for your commitment and enthusiasm. The workshop made quite an impact on me. I just thought I would let you know that your hard work and dedication has made a lasting impression on me and my team. Thanks for all the tips and tricks.
–Danier Leather
Kevin has presented several times to Home Hardware conferences, always to great reviews. Our dealers love his high energy and high content style that is always full of relevant and thought provoking ideas. Each presentation is customized in a way that our people feel is aimed directly at them.
–Home Hardware Stores
I wanted to congratulate you again on the great job you did for our retail team. Your messages were very clear and directed towards the behaviors that need to occur in order to position our retail managers as sales managers. You helped provide a focus so the group left with a positive feeling and solid plans on how to get where we want to be.
–Canada Post
We are very pleased with the outcome of the conference and it was obvious you were a major contributor to its success and I just wanted to commend you on your presentation. Thank you again for offering a truly unique perspective to our Associates and Store Managers.
–CEO, Shoppers Drug Mart
Many thanks for Executing the Plan and we are looking forward to more Graff-brilliance at the staff event later this month.
–Sheridan Nurseries
Have to tell you ... the crowd LOVED you yesterday. I received great comments from everyone. Thanks again for the super message and delivery.
–Benjamin Moore
I was thinking you were the best, most inspiring, challenging and interesting speaker at the entire RCC conference. You are truly amazing!!! You are the best!
–Glentel
Thank you for an outstanding presentation at our recent sales conference. We have heard nothing but absolutely positive feedback!
–Bulk Barn Foods Limited
[Less..]