Fee Range
PGgzPkZlZSBSYW5nZSBmb3IgU2hhbmUgRmVsZG1hbjwvaDM+PHA+JDE1LDAwMSAtICQyMCwwMDAgPC9wPg==
Request More Information

Shane Feldman
Future of Work; Build Better Relationships; Create Engaged Communities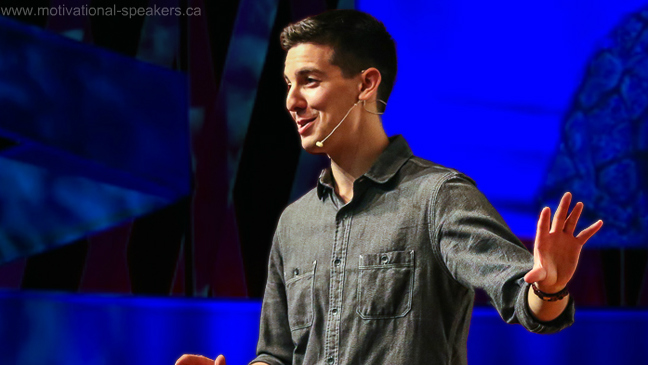 Bio
Shane Feldman believes community is the answer to every question and the solution to every problem. Having researched community leadership in 30 countries, Feldman has uncovered universal strategies for building engaged communities. Today, he helps leading organizations, including Fortune 500s, optimize team culture and leadership for increased talent and client retention. Through his customizable, high-energy keynotes, Feldman shows audiences how to cultivate community-centred workplaces that enable individuals and teams to perform at their highest levels.

In this digital age of distraction and disconnection, leaders are facing a community crisis spanning all generations. Feldman's "Leadership Passport" framework helps counteract this crisis by equipping leaders with the strategies needed to cultivate community, build better relationships, and increase engagement across organizations. He has worked with such dynamic brands as Disney, YPO, Google, TD Bank, Shopify, and Kaiser Permanente.

A serial entrepreneur, Feldman is the founder of Count Me In, the world-renowned social entrepreneurship incubator. Since launching in 2011, it has grown into a global community of 10 million next-gen leaders from more than 100 countries. It has also initiated more than 30,000 ventures worldwide, contributing a value of over $2.6 billion to the global economy through service.

Named one of North America's Top 40 Under 40 LGBTQ2+ Leaders, Feldman has been recognized by the White House, the Prime Minister of Canada, and the United Nations for his accomplishments in community leadership. He has also been featured in top media outlets including Oprah, Larry King, Dr. Oz, Forbes, and People magazine. Feldman is also the subject of a documentary TV series from A&E, which followed his community building work.
Topics & Categories
Change | Change Mgmt.
Communication
Creativity & Innovation
Education & Youth
Employee Engagement
Future of Work
Future Trends
Human Resources & Workplace Culture
Inspiring Stories
Leadership
Motivational Speakers
Performance & Productivity
Social Change/Humanitarian Issues
Team-Work & Collaboration
Shane Feldman Speaking Presentations:
Leadership Passport: Attracting, Empowering and Retaining a High-Performing Team

+
Having researched community leadership and human behavior in over 20 countries, Shane Feldman has uncovered universal strategies that make teams click and businesses thrive. In this captivating and actionable talk, Shane reveals how to cultivate a work environment centered around community, that enables individuals and teams to perform at their highest levels. Shifting common misconceptions surrounding organizational culture, Shane breaks down how to foster an inclusive work environment where teams are inspired to innovate, think creatively, and collaborate.
Through engaging stories of remote African villages, bustling Asian cities and quaint European towns, Shane's dynamic talk demonstrates simple shifts to become a stronger, more inclusive leader.
Motivational and actionable, Shane's presentations are customized to fit the audience and objectives of each event. Key takeaways include:
What it looks like to be a true community builder and to lead with authenticity
The difference between culture and community, and what it takes to foster unity and collaboration at all levels
One simple shift to ensure every voice feels valued and heard
Building loyalty and engagement among employees to boost performance
Empowering a courageous entrepreneurial mindset
New and effective ways of working across all levels of an organization, regardless of your role --
Relationship Passport: Inspiring & Retaining Loyal Customers

+
In today's digital landscape, attention is the new economy. Organizations who rise above the noise do so through authentic relationships and community building.
In this talk, famed entrepreneur Shane Feldman bridges the gap between technology and relationships, giving audiences the tools to inspire customers and increase loyalty and retention.
Through his firsthand experiences travelling the world and spearheading the world's largest millennial-led movement, Count Me In, Shane has uncovered the universal framework that allows certain organizations to build a community of customers who are also raving fans, followers and advocates. Break out of the constraints of old models and learn how to use tech as an advantage to make customers an integral part of your company's community and story.
This customized session gives audiences key takeaways to:
Make customers a part of your company's story in a way that inspires and empowers
Put customers at the center of your company's community by implementing pathways for them to connect in authentic ways
Embrace social media as an asset for growth
Build genuine relationships and connections with customers that transcend evolving tech and trends --
Future-Proof Passport: Driving Connection & Collaboration in this New World

+
In today's unpredictable landscape, your competitive edge is collaboration. In this empowering, forward-looking talk, Shane Feldman goes beyond the hype and speculation to reveal a fundamental truth: In today's unpredictable landscape, community and relationships are what will set you apart.
New disruptive business models, new flexible work arrangements, new tech-fueled innovation are all part of the future of work. Shifting perceptions of entrepreneurship and moving beyond tech-fueled competition, Shane helps audiences re-focus, re-connect, and elevate their impact.
Having researched community leadership and human behavior on the ground across 30 countries and 5 continents, Shane Feldman will take your audience on a journey, illustrating the lessons learned interviewing leaders in places ranging from Albania and China, to Ghana and France. Shane decodes how to empower human connection, future-proof your organization, and optimize people, planet, and profit through real-world examples and clear strategies you can apply right away.
This is a customized session that will be designed to meet your unique goals.

Key takeaways often include:
Build stronger relationships with anyone, anywhere
Build a team that will thrive through change and uncertainty
Uncover the why behind your work, promoting authenticity
Uncover a sustainable growth mindset.--
Testimonials
Shane's presentation was very inspiring, and it left us with a very clear call to action – that changing the world can happen daily with small acts of kindness and compassion.
–Netflix
[More..]
Shane's presentation was very inspiring, and it left us with a very clear call to action – that changing the world can happen daily with small acts of kindness and compassion.
–Netflix
Shane Feldman kicked off our event perfectly! His energy was contagious, and his stories were captivating. The D4G Conference at Facebook would not have been the same without Shane, and we're grateful he was able to be part of the event. His message inspired the entire audience to think bigger and attendees left feeling hopeful, energized, and ready to take action. A joy to work with, Shane is humble, kind and inspiring on stage and off.
–Strategic Partnership Manager at Facebook
Shane was personable, relatable and inspiring. By inviting an individual with Shane's stature and notoriety to present at our summits, we succeeded in inducing a higher attendance and reputation for our events.
–York Regional Police
One of the most impressive, authentic people I've ever met is Shane Feldman, demonstrating self-awareness more often associated with people three or four times his age.
–Forbes
Shane had the ability to reach every member of our audience and convey his message. He has the gift of being able to connect. I understand why Shane is one of the most sought after and influential speakers in this field.
–Casino Amusements Canada
[Less..]