Fee Range
PGgzPkZlZSBSYW5nZSBmb3IgSmVubmlmZXIgTW9zczwvaDM+PHA+JDE1LDAwMSAtICQyMCwwMDAgPC9wPg==
Request More Information

Jennifer Moss
Speaker & Workplace Behavioral Expert;
Bestselling Author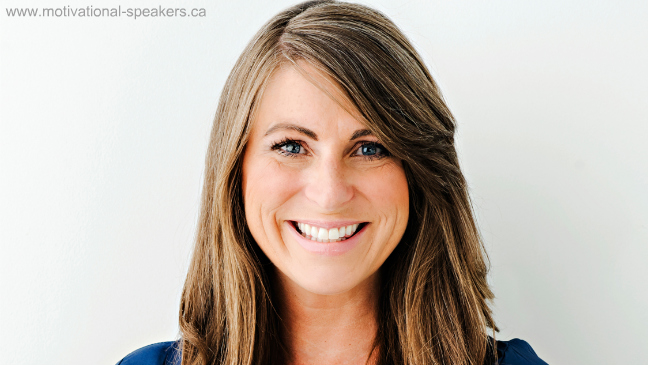 Bio
Jennifer Moss is an award-winning journalist and author, international speaker, and workplace culture strategist. Her book, Unlocking Happiness at Work, received the distinguished UK Business Book of the Year Award and her most recent book, The Burnout Epidemic, was named one of the "10 Best New Management Books" by Thinkers50. Moss' inspiring and evidence-based presentations help leaders and their teams find joy and become more resilient and successful.
Moss is a nationally syndicated radio columnist and freelance journalist. She writes for Harvard Business Review and her work has also appeared in CNN, TIME, The New York Times, The Wall Street Journal, and The Washington Post. Moss previously worked in Silicon Valley and was a part of Barack Obama's California social media team during his historic presidential campaign.
In recognition of her contributions to business and public service, Moss was named a Canadian Innovator of the Year and an International Female Entrepreneur of the Year. She was also the recipient of the Public Service Award from the Office of President Obama and, in 2022, was named to the Thinkers50 Radar list of "30 thinkers to watch". Moss is currently working on her third book, to be published Spring 2024, which will explore some of the biggest workplace trends that came out of the pandemic and offer tactics on how to best manage them.
Topics & Categories
Change | Change Mgmt.
Employee Engagement
Future of Work
Health & Wellness
Human Resources & Workplace Culture
Leadership
Mental Health
Morale Boosting
Most Requested Speakers
Most Requested Virtual Speakers
Performance & Productivity
Resiliency
TED Speakers
Trainers
Virtual Presentations
Women of Influence
Work-Life Balance
Jennifer Moss Speaking Presentations:
Live/Virtual Keynotes
Jennifer Moss will appear live from her home/studio to yours for your next virtual conference, meeting or webinar, to bring her experienced insights into workplace wellness, preventing burnout, happiness at work, resilience, post-traumatic growth and more. She'll customize to your group and engage in Q&A.
Current Keynote Topics:
Reducing Stress and Increasing Engagement in Changing Times

+
Since the pandemic we've been operating in crisis mode. It took 41% of the global workforce to resign for us to finally admit, crisis mode may not be sustainable. And yet, growth expectations have not slowed, workloads are still unmanageable, and people keep quietly quitting or quitting outright.
The lack of stress-testing before the pandemic caught organizations completely off-guard. It wasn't just overwork, there were changes in process, new technology to master, ever-increasing meetings, new modes of working, rising loneliness, and an explosion of inefficiencies that felt like pouring glue into an already sluggish wheel.
Although there's a strong desire to put the past into the rearview, Jennifer Moss believes that's a mistake. Three years of living in fight/flight/freeze changes people. We can't go back. And, do employees really want more? Or do they just want something different? A "jam the toothpaste back in the tube" strategy has never worked — why would it now?
Moss, globally recognized as an expert in workplace wellness, shows audiences how to capture those lessons from the past to make a better future of work.
Takeaways include:
Combating Burnout to Reach Our Goals

+
A chronic state of urgency and heightened stress has made it more challenging to reach our potential. Many of us feel depleted and less effective in our jobs. Brain fog — a symptom of chronic stress — can make recall more difficult, and small tasks feel enormous. We're distracted and lack motivation, so even making simple decisions can feel like a Herculean task. All of this is adding up. We're working 30% more each day to hit the same goals we used to reach effortlessly. If this is how you're feeling, you're not alone. But, there are solutions.
Jennifer Moss, globally recognized as a well-being expert and author of the book, The Burnout Epidemic, will share how to identify chronic stress and offer strategies to prevent it — for both leaders and individuals.
Takeaways include:
Unlocking Happiness at Work

+
Can you really be both "happy" and "at work"? Loving what we do makes us more engaged, productive, and higher performing. So, why is only 13% of the global workforce happy and engaged? Despite all the stats, happiness strategies are often low on the workplace priority list. With 50% of our waking hours spent at work in our lifetime; this is a massive problem. It isn't just costing employers — studies show that employee disengagement is making us lonely, anxious, and harming our health.
Jennifer Moss believes we can solve this well-being crisis and has the research and data-backed insights to show us how. Drawing on her experiences in behavioural sciences and as a member of the Global Happiness Council think tank, Moss provides audiences with practical advice to become happier, healthier, and higher performing.
Takeaways Include:
Combating Burnout



Half-day seminar
+
Jennifer Moss is an expert in the field of burnout. For the past year, she has been deep into the research related to well-being in a crisis and just completed a joint research study with Harvard Business Review that analyzed the impact of COVID-19 on workplace well-being. She was able to gather data from 46 countries which has informed her strategic approach to managing well-being now and in the post-COVID world.
In her latest seminar, Moss dives deeper into the root causes of burnout and the upstream strategies leaders can leverage to prevent them. She will explain how burnout is a "we" problem to solve — a result of external events, societal impacts, organizational policy, and individual mindset — not cured with self-care alone.
Based on over a decade of research, two books on the topic, and her role as a strategist in nearly every sector of the workforce, Moss will offer a novel approach to preventing burnout. She will share where burnout fits into well-being strategies and where it needs to exist on its own. Leaders will walk away with a mix of essential strategic know-how and tactical plans to solve for burnout in their teams and across their entire organization.
The seminar will be followed by six weeks of activities and suggested reading to help further understand the role of leaders and the organization in preventing burnout. It will also include a prescriptive, tactical plan to engage individuals and teams immediately post-event. Leaders will then be able to position their teams to decrease chronic stress and burnout, while increasing well-being in the workplace.
Takeaways include:
Workshops:

The Root Causes of Burnout
Jennifer Moss, award-winning journalist and bestselling author of Unlocking Happiness at Work and The Burnout Epidemic, offers seven workshops for leaders as a follow-up to her keynotes. These workshops focus on the basics of burnout, the root causes of it, and how to solve them.
Each session is 60 minutes, and clients can book one, several, or all of the workshops.
Workshop 1 — Burnout 101: Debunking the Myths

+
In her essential workshop, Jennifer Moss will dispel the myths impacting our ability to prevent burnout. This workshop will provide attendees with the following takeaways:
Workshop 2 — Workload: How to Manage Unmanageable Workloads

+
Workload has always been the leading cause of burnout, and the pandemic has only made it worse. In this imperative new workshop, Jennifer Moss provides attendees with the tools to manage overwhelming acute and persistent workload.
Takeaways will include:
Workshop 3 — Perceived Lack of Control: The Future of Work is Flexible

+
To be productive, happy, healthy, and engaged, people need to feel a sense of agency — the ability to make autonomous decisions about the ways in which they work and live. The most successful organizations get this, but it's not always easy to implement. Jennifer Moss will provide leaders with the strategies to increase job satisfaction and engagement by implementing more flexibility.
Workshop 4 — Lack of Reward or Recognition: Everyone Wants to be Seen

+
We may think we're recognizing and rewarding the right people in the right ways, but evidence continues to show that we're getting it wrong. And it's causing people to burn out. Jennifer Moss helps leaders understand how to build more effective recognition and feedback strategies with burnout prevention at the core.
Takeaways include:
Workshop 5 — Poor Relationships: Closing the Loneliness Gap

+
Having a best friend at work increases the likelihood of staying in our jobs by 50%; it helps us to better handle both work and life stress and our risk of burnout is reduced by 41%. There are plenty of other reasons to encourage healthy and productive relationships at work. And yet, the pandemic changed how we form and foster those same workplace friendships. As a result, loneliness is higher than ever across our global workforce.
Jennifer Moss will speak to attendees about the value of friendships and how we can protect them in a pandemic and post-pandemic world. In this workshop, Moss will discuss:
Workshop 6 — Lack of Fairness: Leveling the Playing Field

+
Policies that promote diversity and inclusion have increased substantially in recent years. Even before the pandemic, many of these policies missed the key issues that increase burnout. In the pandemic, these gaps were highlighted, and it generated a need to tackle this problem in new ways.
In this workshop, Jennifer Moss will address the following:
Workshop 7 — Values and Skills Mismatch: Increasing Meaning, Purpose, and Fit

+
A culture that encourages shared values, beliefs, and behaviours between employees and the company itself enhances overall performance and reduces burnout. Not only because purpose-driven work can act as a barrier to burnout, feeling connected to a mission can fuel engagement — a counterpoint to burnout. Jennifer Moss' research found that during the pandemic, employees were feeling mentally and emotionally distanced from the values and goals of the organizations they worked for.
Moss will offer strategies for renewing purpose and meaning in our people and teams.
Takeaways from this workshop include:
What Clients are Saying
A great session and one of the best events I have seen on mental wellness and dealing with fatigue/burnout during Covid. You are a true pro and a great communicator!
–Royal Bank of Canada
[More..]
A great session and one of the best events I have seen on mental wellness and dealing with fatigue/burnout during Covid. You are a true pro and a great communicator!
–Royal Bank of Canada
I have attended many motivational/business/etc. presentations over my career. I can honestly say you are one of the best speakers (and by far the most genuine) I have experienced.
–Price Waterhouse Coopers
Thank you again for your amazing talk! I continue to get people stopping me telling how great your session was and I am seeing lots of comments on our internal social network. You really made an impact!
–TD Bank Group
Very engaging speaker with powerful message. She was ultimately fabulous.
–Canadian Health & Wellness Innovations Conference
I was genuinely entertained by her storytelling and inspired by her message. She showed an authentic level of comfort with the audience and you could sense that everyone was highly engaged in her talk.
–President, GM Canada
In her speaking, Jennifer does a masterful job at weaving together the threads of personal experience with the art & neuroscience of motivation to deliver a compelling message, that causes the audience to reflect on how we think & interact not only in our careers, but also in our personal lives.
–Chief Financial Officer, Communitech
Jen stands apart from this field as someone who is not just passionate about the issue, a passion that makes her presentations shine, but has the data and the experience to back up her beliefs. She's a great speaker on an important topic. What more could you ask for?
–The Conference Board of Canada
[Less..]