Fee Range
PGgzPkZlZSBSYW5nZSBmb3IgTWlrZSBMaXBraW48L2gzPjxwPiQxMCwwMDEgLSAkMTUsMDAwIDwvcD4=
Request More Information

Mike Lipkin
World-Renowned Motivator & Communications Speaker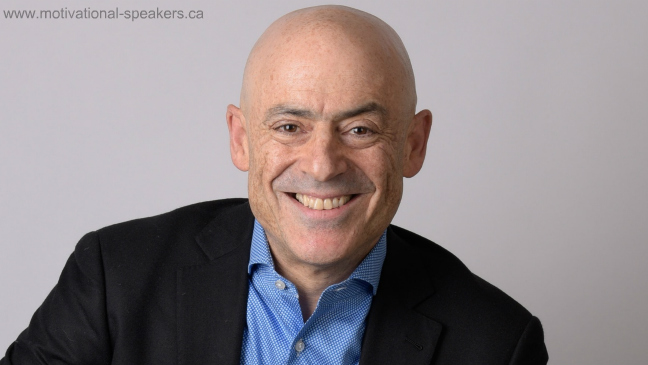 Bio
Speaker Mike Lipkin brings out the best in leaders and employees around the world. The founder and president of Environics/Lipkin, a global research and motivation company, and the author of numerous bestselling books, he combines Environics' trademark "social values research" with his personal expertise to provide organizations such as Deloitte, P&G, Pfizer, Wells Fargo, and GE with the tools to take powerful action and achieve pre-eminence in their workplaces. Mike's latest book "The Potentiator - How To Create Breakthroughs With Others In a Post Pandemic World" was published in November 2021.

Mike Lipkin combines his learning from talking to a million people in forty-three countries with the insights from the Environics Social Values research to offer clients the best of all worlds: a powerful blend of ideas and principles that help them achieve remarkable results. He began his career with Colgate Palmolive as a brand manager, and then migrated to the advertising industry where he held senior account management positions at both Grey Advertising and Ogilvy & Mather.
Mike founded Environics/Lipkin in 2001, and has written nine bestselling books on personal leadership and effectiveness. that include Your Personal Best: The 12 Personal Best Practices to Help You Live at Your Highest Level; Luck Favours the Brave: How the Five Social Super Trends Can Make You Very, Very Successful; On Fire: The Art of Personal Consistency; Keeper of The Flame: How to Inspire Others on the Cusp of Change; One Life, One Meeting: How to Achieve Pre-eminence, One Conversation at a Time and Star Power.

Topics & Categories
Business Management & Strategy
Change | Change Mgmt.
Communication
Creativity & Innovation
Customer Service & Loyalty
Employee Engagement
Future of Work
Future Trends
Human Resources & Workplace Culture
Leadership
Morale Boosting
Most Requested Speakers
Motivational Speakers
Performance & Productivity
Resiliency
Sales & Service
Team-Work & Collaboration
Trainers
Virtual Presentations
Mike Lipkin's Speaking Presentations:
Mike Lipkin offers both full-day and half-day interactive learning & development workshops as well as keynote presentations. All Companies, Organizations and Clients who engage his services are evaluated, researched, and all programs are expertly customized to help each Client achieve their strategic objectives and results-oriented goals.
VIRTUAL:
Get into Your Comfort Zone: Ten Ways to Master the Crisis +
Mike Lipkin, CEO, coach, and founder of Environics/Lipkin, brings you an exclusive masterclass in leadership motivation at all levels.
Together with his colleagues at Environics, Lipkin has created a set of tools that will help inspire your team and clients to excel in extreme conditions.
Audiences will learn Lipkin's ten ways to master the crisis, including:
How to make friends with your fear.
Accelerate through the six stages of recovery.
Communicate remotely.
Prepare for the upturn
Be an essential example of what's possible.
This virtual presentation is a fast paced, energized one-hour program delivered via Zoom, which includes both a keynote and Q&A. Lipkin uses PollEv for instant interaction and feedback. --

Use Your Superpowers to Lead the Recovery +
In this informative and inspiring virtual keynote, high performance coach Mike Lipkin will empower you to deliver the ultimate value proposition: creating breakthroughs with others in a post-covid reality. He will guide you through the 10 key forces shaping the immediate future and show you how to develop your three superpowers for success: Certainty, Charisma, and Conditioning. In line with his philosophy that life is "theatre with consequences", Lipkin always entertains while he educates.
Audiences will learn:
How they can lead through a crisis and find success during the recovery
The 10 forces at play in shaping their future
To develop their three "superpowers for success": Certainty, charisma, and conditioning
This virtual presentation is a fast paced, energized one-hour program delivered via Zoom, which includes both a keynote and Q&A. Lipkin uses PollEv for instant interaction and feedback. --
VIRTUAL or LIVE KEYNOTES:
Dancing With Disruption: The Seven Secrets to Thriving on Massive Change so the Most Desirable People Want to Work with You +
Over the past 25 years, superstar coach Mike Lipkin has studied and worked with thousands of disruptors around the world. In this thrilling guide to personal success, he shows us that the key to extraordinary success is to have so much fun that you become the source of other's joy.
This program is filled with mind-opening insights and examples that will inspire you to act like a disruptor — someone that creates the future one step at a time. There is an amazing breakthrough that is currently just beyond your reach. Lipkin will help you grasp it. The people closest to you are counting on it. It's time to dance.
Disruption is given two definitions in the Merriam-Webster dictionary: 1) "to break apart, throw into disorder" and 2) "to interrupt the normal course or unity of." Random House dictionary also defines it as a "radical change in an industry, especially involving a new product or service that creates a new market."
A disruptor, on the other hand, is defined as someone who destroys, temporarily, the normal continuance or unity of something. They create the conditions for something new to happen. A disruptor is also a person that precipitates a fundamental shift in thinking, action and consequences.
Radical change is the new normal. Disruption has evolved from being episodic to being continuous. It's not something that we can ever get used to. In fact, it's impossible to get used to something that's always changing. It's always going to be unsettling. We can only prepare for it as best we can over and over again.
Become the person who really knows. The difference between someone who really knows and someone who doesn't is the willingness to do the work, find the information, talk to the people and formulate one's strategy. The data have been democratized. Everything is out there if you're willing to search for it. The tiniest details can reveal the greatest insights. But you must understand and communicate the facts, not the alternate facts.
Be an audacious dreamer. If you want to be a disruptor, you can be humble, but you can't be modest. You need a dream that's bigger than anything that gets in its way. Other people may call you crazy, monomaniacal or misguided. I call it audacious ambition. What are you out to achieve? Is it so big that others are too afraid to go after it? Tell everyone what you want to achieve with them and for them. Somebody will help you make it happen.
Be simultaneously analytical and creative. Disruption demands left and right brain firing together. Your intuition may alert you to the opportunity but it's your intellect that builds your business case. There may be a gap in the market, but is there a market in the gap? There may be hundreds of ways to do something but which one way is the best way? You may have a hunch, but do you also have proof that your way is the right way?
Be prolific. Disruptors try a lot more things than disruptees. They fail fast and they fail forward. The more you lose, the more you win. 1.0 is always imperfect. You will hear the word "no" hundreds of times more than the word "yes." The best way to get ready is to do things before you're ready. The best you can do is make it as perfect as you can the first time and then make it more perfect. The philosophy of being prolific is: do more so you learn more so you can achieve more.
Communicate like Magic. Words are packages of emotion that have a physical impact. They inflict pleasure or pain. Words don't just describe things, they define things. Our words become our world. The way we communicate determines the way we live. Magic is a learned skill. It's the capacity to transform people through information and inspiration. The right words at the right time are the moments that shape our lives.
Collaborate like a champion. From Aristotle to Zuckerberg — disruptors transform their partners into powerhouses they could never have become on their own. They transform the process to enable others to achieve unprecedented results. Their mantra is "revolution through collaboration." They are building an ecosystem of partners that shares its genius. They attract the best talent because the best talent goes where it earns the highest return.
Be unconditionally enthusiastic. Crises are how our lives are rerouted in a new direction. Reversals will always precede fast-forwards. If you're trying to change the game, you've got to love the game — especially when you're losing. Enthusiasm doesn't mean exuberance. It means being the best version of yourself. Personal alchemy is the transformation that occurs when you are unconditionally enthusiastic. Follow the code. Do it anyway. --
The Potentiator: Helping Others Function at Their Best +
We are all part of each others' ecosystem. Success is reciprocal. The most desirable people are those that build a reputation for helping other people win. They are the Potentiators. They activate ultimate success by helping others function at their best.
Potentiators are not born, they make themselves. They are ordinary people that are driven to cause breakthrough outcomes for others. They've learned that they are only as good as how good they can make others. They want to make their gifts count. You can find them at every level. They're the ones enabling the success of everyone else.
They are always the students and always the teachers. They are intentional and purposeful in their relationships. No jerks, shirkers, sloths, takers, fakers, wimps, quitters, cynics, bullies, bigots, hermits, or cruisers allowed. They keep the main thing the main thing. And the main thing is always to push the envelope on behalf of their community.
In this powerful program, Mike Lipkin will coach you on how to become a Potentiator. You will learn the ten Potentiator practices:
Be self-savvy
Develop situational sensibility
Make a powerful promise
Become sublimely skilled
Build robust resilience
Grow courageous creativity
Be fanatically faith-worthy
Cultivate close connections
Communicate like a champion
Cause bold breakthroughs --
Lead Like a Coach, Whatever You Do: The art of enabling others to achieve the outcomes that matter most, while you expand their capacity to sustain remarkable performance +
No matter what you do, you're a leader and you're a coach. The two are inseparable from each other. Leading without coaching is malpractice. It's short-sighted, unsustainable and selfish. On the other hand, "Leading like a coach" Is when you enable, not mandate. You inspire, not intimidate. You expand, not constrict. You make people happy, not miserable – including yourself.
The ultimate game-changer is the ability to empower people with the skills and inspirationto thrive on massive change. We are only as successful as the people that coached us along the way. They are the ones that build our capacity to create the outcomes that matter most. They are leaders that build a following of leaders.
Over the past 26 years, Mike Lipkin has coached over a million people in 43 countries. Together with his colleagues at Environics, Mike studies the people that enable others to achieve extraordinary results. In this eye-opening program, Mike shares their ten essential practices with you in a way that will equip you to take immediate action:
Be Curious. Discover for yourself.
Make It Your Mission. Identify yourself as a capacity catalyst.
Focus On The Prize. Become a conduitof fulfillment.
Make A Plan. Discern the 6 W's: What, why, how, who, when, where.
Partner With Purpose. Help others winand winners will want to work with you.
Ask, Don't Tell. Open peoples' mindsthrough powerful questions.
Actively Listen. Foster an emotional safety-zone where people can be entirely candid.
Get Out There. Nothing worthwhileever happens behind your desk.
Communicate Like a Champion.Build your vocabulary of victory.
Never forget why you signed up.Act like you just made the decision today. --
The Checklist of Champions: How to perform at your best to be the best every day +

(Based on Mike Lipkin's latest book, published in the fall of 2016.) Champions are people who win. They prove they are best of breed. They do the right things right and they don't get the wrong things wrong. They are inspired by their cause and they are disciplined to defend it.
Champions are gifted but they are also worthy of their gifts. They know what to do and they do what they know. They plan their execution and they execute their plan. They dream but they don't daydream.
Champions talk the talk and they walk the walk. Their words inspire action. Every hour, every day, every week, every month, every year, champions do what needs to be done. No alibis allowed, no excuses permitted, no easy ways out. Champions become the standard by holding themselves to a higher standard.
It's simple but it's not easy. Like trains have a track, Champions have a checklist. It focuses them while it sets them free. It's a way of being and doing at the same time.
Mike Lipkin is a Champion who studies Champions for a living. He lives with them. He works with them. He coaches them. His mission is to help people perform at their best to become the best. In this remarkable program, Lipkin will share the Checklist of Champions with you.
You will learn:
How to identify as a Champion;
How to dream like a Champion;
How to plan like a Champion;
How to feel like a Champion;
How to play like a Champion;
You may be one move away from being a Champion, or you may have miles to go. Mike Lipkin will give you the Checklist of Champions that will help you get there faster. One thing is for certain, if you want to win, this message is for you.
Mike Lipkin is the founder and CEO of Environics/Lipkin, one of Canada's leading research and motivation companies. His mission is to give people the insights that move them into powerful action. In line with his philosophy that life is theatre with consequences, he entertains his audience while he informs and inspires them. He also customizes his program to the specific challenges facing each audience. --
How to be Always New, Especially When You're Not New +
Once upon a time, everyone is new. We arrive on the scene with new energy and ideas. We have something to prove and we prove it. We dazzle and delight our customers and colleagues. We are the bright, shiny thing. Then the seasons pass. We earn others' respect and loyalty. We build our personal franchise. We develop our habits. We operate in our zone of competency and comfort. We start to defend what has taken us years to create.
That's when the crisis hits. Markets change. Technology evolves. Customers demand more. A new breed of players, with a brand new value proposition, suddenly appears. A new game begins that is defined by a very different set of rules. Either we rejuvenate ourselves to win or we resign ourselves to losing.
Where are you in the ageing cycle? Are you new? Are you about to be surprised? Are you already playing catch-up? Or are you ahead of the curve? Wherever you are, it's time to practice self-rejuvenation as though your life depends on it because it does.
In this remarkable program, Mike Lipkin levers 30 years of performance at the highest level to help you be Always New, especially when you're not new.
He showcases the world's most successful examples of brand and personal rejuvenation including Apple, Cadillac, Clint Eastwood, Detroit, GE, Helen Mirren, L'Oreal, Matthew McConaughey, Mick Jagger, Mini, Nike, South Africa, Schlumberger, Stephen King, Twinkies, and Whole Foods.

Delegates will learn the Ten Distinctions to Being Always New:
Master an Always-New mindset;
Meet expectations as a baseline;
Identify opportunities to redefine expectations;
Understand what Fabulous looks like;
Define the unique perception you want others to have of you;
Communicate your promise like a champion;
Package yourself across the channels;
Strengthen your pack with empowered operators;
Condition yourself mind, body and soul;
Take immediate action --
How To Become a Champion Collaborator +
80% of your time is spent in meetings, on the phone or responding to e-mails. Your engagement in collaborative activities has increased by 50% over the past five years. The complexity of your environment is accelerating even faster. Anything that is worth anything can only be achieved through others. Collaboration is the biggest theme in the workplace today. It is defined as: working effectively with other people or groups to achieve a mutually desired result. It seems like it should be a natural instinct, but it's not. Highly effective collaboration is not the norm. So what gets in the way of highly effective collaboration? Environics/Lipkin research has revealed five key barriers:
Lack of purpose.
Lack of perspective.
Lack of trust.
Lack of expertise.
Lack of enablers.
Here is the secret sauce of Champion Collaborators in a single sentence: Champion Collaborators help others succeed in a way that motivates others to invest more time and resources with them. So are you a Champion Collaborator? How do you know?

In this breakthrough program, Mike Lipkin will share the ten researched ways to become a champion collaborator:
Inspire yourself.
Know the world. Know your industry. Know your company.
Focus on what counts.
Run towards the problem.
Promote your promise.
Use technology to amplify your impact.
Create a collaborative framework.
Get comfortable playing outside the lines.
Protect yourself against cynicism.
Train like an athlete --
How To Communicate Like a Champion: The Ten Steps to exciting people into powerful action. +
The noise has never been louder and the distractions have never been greater. There are so many priorities competing for our attention that we hardly know what to do and when to do it. We're magnetized to people who help us make sense of the chaos and guide us on how to achieve winning results. Highly Effective Communication is the secret sauce of today's Champions. It is the process of sharing information and transferring emotions in such a way that others are motivated to take the desired actions. Champion communicators say the right things and they say them in the right way. They inspire and inform others in equal measure. They understand how to make connections and they walk their own talk.
Every year, Mike Lipkin coaches thousands of people in the world's best organizations on how to communicate like champions. He shares ten extraordinary steps with them:
Get into the right mindset
Visualize the desired outcome
Prepare to win
Connect through caring
Focus on the students
Listen intensely
Talk the talk
Use your body like a Champion
Improvise through humour
Finish strong
Communication is a natural process. When it's done right, it's a beautiful thing. It inspires engagement and passion. Sometimes all it takes is a slight shift in emphasis or change in tone. Mike Lipkin will show you how to excite people into powerful action while you have fun doing it. In line with his philosophy that life is theatre with consequences, he will entertain you while he informs you. --
Keeper of the Flame: How to Inspire Others on the Cusp of Change +

Mike Lipkin has surveyed, interviewed or motivated over 100,000 people throughout The United States and Canada. Here's the most powerful message he's heard:

"The New Normal is pushing me to the edge. I'm being squeezed up against my limits – professionally, mentally, emotionally, financially, socially and physically."
In the New Normal, it's not good enough just being excellent. Excellence merely gives you the right to play. On the Cusp-of-Change, you have to be Brilliant. You have to be A Keeper of The Flame: Someone who goes first; someone with a heightened awareness of her impact on others; someone who is her own best coach; someone in total sync with her environment; someone embedded with the authority of both competence and character; Someone who inspires others to be their Personal Best; Someone like you. Someone like the person you will become. Or someone like the person you need to rediscover.
In his book, Mike Lipkin leverages the proprietary Environics Social Values Research and his own personal contact with over a million people, to deliver an imagination-stretching view of the future. Specifically, he identifies the Nine Life-Transforming Trends shaping the way you live, work and play.
Then, in his role as Motivator-in-Chief, he coaches you on how to master the Six Nuclear Dimensions to become a Keeper of The Flame. You will learn how to massively increase your personal leadership through Focus, Strategy, Learning, Emotional-Power, Action and Social Kudos. --
To inquire about Mike Lipkin's speaking schedule & booking Mike Lipkin, contact us.

What Clients are Saying
I've never seen our delegates give anyone a standing ovation until they gave one to you! Your energy, your humour and your pearls of wisdom were all so valued. You left us feeling better for having interacted with you. Very generous, gracious and motivating!
–General Mills
[More..]
I've never seen our delegates give anyone a standing ovation until they gave one to you! Your energy, your humour and your pearls of wisdom were all so valued. You left us feeling better for having interacted with you. Very generous, gracious and motivating!
–General Mills
He was fantastic. His session was insightful, intelligent, thought provoking and funny. I can easily say that he was the highlight of the conference.
–BMO Financial Group
Mike Lipkin was fabulous and very well received by approximately 175 people! Phenomenal turnout!
–AstraZeneca Canada Inc.
Mike rated amongst the highest of all inspirational speakers and guests we have invited to our Annual Team Meeting. Boomers to Millennials were immediately drawn to Mike's message and powerful delivery.
– CEO, Traveler's Financial Group
Mike's energetic and exciting presentation style will keep you thinking and laughing, all the while providing you with simple and easy to use strategies to maximize your own potential for personal growth.
–Maritime Life
It was indeed an honour and a privilege for the staff of the Nelson Mandela Foundation to have you deliver such an outstanding motivational talk. The motivational talk enhanced our level of commitment and consistency. The session was indeed not only successful but thought provoking and thoroughly enjoyed by all. We wish you every success in your future endeavors.
–Nelson Mandela Foundation
Outstanding work and insights. Most importantly thank you for making the personal commitment to help to transform CIBC to the best in the world - your enthusiasm and insights are priceless.
–CIBC
I want to say thank you once again! Your 'conversation' with our team today was a perfect fit for our event. The comments from all I spoke with were extremely positive. We were especially impressed with the relevance of your messages for our team and our journey. You did a great job at incorporating the key themes from the morning sessions - very appropriate and well done!
–Walmart Canada
You were awesome. I loved the way you always exceed our high expectations. You inspired the sales force and you left them focused and fascinated.
–Pfizer U.S.
I want to say how much we enjoyed your presentation at our meeting in New Brunswick. Everyone, and I mean everyone, thought you were fantastic; entertaining AND inspirational. As a group we get along pretty well and our meetings are usually a very positive event, but I've had more comments suggesting that this one will be hard to top, thanks to you.
–New York Fries
I wanted to take the opportunity to recognize you for a fabulous effort yesterday. The 'after effects' still being spoken of during our meeting today around our new 'Quality Management System'. You completely confirmed our instincts that you were the right person at the right time for Direct Energy - Here's to many more engagements with our organization in the future!! Thank you so very much!
–Direct Energy
Your presentation was truly electrifying and many individuals told me it was the highlight of what was an outstanding meeting! I can't thank you enough for your generosity! You were truly fabulous!
–Professional Conference Managers Association
[Less..]