Michael Hyatt
Leadership | Change | Technology & Innovation Visionary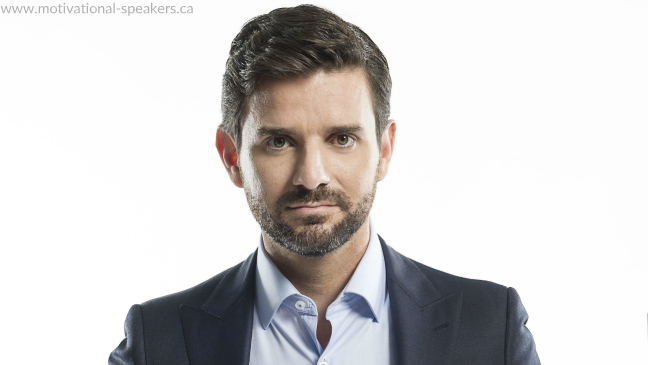 Bio
Speaker Michael Hyatt became a self-made millionaire by building two highly successful tech firms that he sold for $500 million dollars. Today, Michael ranks as one of Canada's top entrepreneurs, and was a celebrated "Dragon" on CBC's online sensation Next Gen Den. He is also is a weekly business commentator the CBC's The Business Panel and previously on The Exchange and On the Money. Speaking on leadership, innovation, entrepreneurship, the future of tech, and managing change, Hyatt believes that no matter what the topic, we need to embrace change, because, as he says, "change is good" and "our future is great". +

Hyatt is currently on the Board of BlueCat, one of the largest private software companies in the country, focused on the internet of things. Prior to his current role, he led the company since its inception as CEO and Executive Chairman, where his leadership philosophy was to focus on strategy and empower his employees to execute.

A Founding Partner at the Rotman School of Management's prestigious Creative Destruction Lab, Hyatt acts as a coach for venture founders to set business and technical milestones to increase the ventures' chances of success. He is also on the CEO Board of Advisors at Georgian Partners, one of Canada's leading venture capital firms; was a finalist for Ernst & Young's Entrepreneur of the Year Award; and was a recipient of the Top 40 Under 40 Award. --
Topics
Michael Hyatt's Speaking Presentations:
Leading With Grit, Passion, And People +
Leaving school at 22 year old with no money, only to become a millionaire businessman by 25, would seem like the story of someone who got lucky with a great business idea. But Michael Hyatt shows you there's a lot more to his success than the idea itself. Success is the small steps you take, and a consistent march is the key.

In this presentation, Michael shares his candid business and leadership philosophies including: how to avoid common mistakes leaders make (but why sometimes failing is good); why asking powerful questions will lead you to the right answer (not just your answer); how to find the best way for a product's success; why you should hire people smarter than you and let them excel; how to win in the new demographic shift; and why supporting all members of your team is so important.

Filled with these and many more lessons Michael has learned throughout his journey, this upfront talk will inspire audiences to think differently in their approach to business success. --
The Internet of Things: Are You Ready? +
The Internet of Things (IoT) is big, it's real, and along with the coming Millennial generation, it's creating a hyper-connected "sharing economy" that has turned traditional businesses upside-down.

In this presentation, Michael draws from his experience running BlueCat, an IoT company with the idea that there needs to be a highly dynamic, flexible way of getting business done. Michael stresses the need to stay connected technologically, without losing the personal connections. --
Evolve or Die +
It's never been cheaper to start a business, but it's still just as hard. Being uncomfortable in business is a good thing, and getting real perspective on where we are in today's economy is critical. It's easy to take high-fives in the good times, but what you do in the darkest hours defines you as a leader.

Michael believes in the great potential for opportunity while there's 'blood on the streets' and times are tough. Tough times can define leadership. It's important not to be an optimist nor a pessimist, but a realist when looking at the situation. Realists come out best in hard times. With an ability to capture and explain difficult concepts easily for audiences, Michael explains his success in challenging times: "Evolve or die." --
Be Comfortable with Uncomfortable +
Michael Hyatt is a mentor and investor in many start-ups, including the Rotman School of Management Creative Destruction Lab and The Founders Institute.

He has built two highly successful tech firms, valued at hundreds of millions of dollars. So, what's his secret to start-up success?

The first thing Michael tells a budding entrepreneur or start-up is to focus. Do one thing and one thing well. Just because you can make money at something doesn't mean you should do it.

At the same time, you need to embrace discomfort, pain and sacrifice. If you become comfortable as an entrepreneur, you might as well be dead.

In this presentation, Michael shows that to achieve success you need to prepare for a marathon, not a sprint. --
For more information, fees, Michael Hyatt's speaking schedule & booking Michael Hyatt contact us.
What Clients are Saying
Michael is a visionary that can ignite an audience's passion and inspire them to embrace change. His dynamic message presented a positive perspective for the future, provided ideas for self-development and how to grow business. Michael's enthusiasm was contagious!
–Advocis
[More..]
Michael is a visionary that can ignite an audience's passion and inspire them to embrace change. His dynamic message presented a positive perspective for the future, provided ideas for self-development and how to grow business. Michael's enthusiasm was contagious!
–Advocis
Wow! Michael is not your typical speaker. With obvious enthusiasm and authenticity, Michael delivered a presentation that brought our audience to a standing ovation. Few speakers earn this recognition. His session entitled "Being a Business Leader with Grit, Passion and People" truly delivered on helping our audience of successful entrepreneurs to think in ways that push the boundaries of every day leadership. Our guests left his session with notes in hand on the incremental changes they could make when they returned to their offices. Overall a very positive outcome!
–Canada Life
Michael was one of the keynote speakers at our flagship youth entrepreneurship conference. His talk was absolutely incredible in not only inspiring all those in attendance but showing them concrete tips on how to get going on their aspirations. Michael is extremely personable, experienced and engaging, and was an invaluable part of the enLIGHT2016 experience. From post-conference delegate feedback surveys, Michael was also ranked as the delegates' "favourite speaker." Thanks again Michael for joining us at enLIGHT2016 and we'd love to welcome you back for future opportunities!
–enLIGHT
Your talk on opportunity was fantastic. Your style and content was engaging, thought-provoking and inspiring—it was the highlight of the day for so many of our attendees! The calibre of our entire event was elevated by your presence that day. You did a phenomenal job connecting your story to the unique perspective of the prospective students in our audience. Your keynote set the tone for our attendees to learn from your incredible success and to challenge their own thinking and perspective about the future of business. This session exceeded the expectations of everyone in attendance. The time you invested will quite literally play a pivotal role transforming prospective students into the business leaders of tomorrow.
–Rotman School of Management
Your keynote presentation was engaging, entertaining and thought provoking, it addressed all the themes of the conference, innovative sales and marketing, innovative business technology, innovative leadership and management, and more! All attendee evaluations gave your presentation top marks! I want to express my gratitude that you arrived early to attend the luncheon and mix with the attendees during the networking breaks both before and after your presentation. The entrepreneurs and high school students who had the pleasure of meeting you during the lunch hour were thrilled to see how friendly, approachable and engaging you were – that special touch was very much appreciated by myself as an organizer.
–Rocky Mountain House
Michael was beyond wonderful. A lot of speakers show up, speak, they're good and then they leave. Michael wanted to stay and spend time with attendees; he helped judge our competition, he mingled with people during breaks, he stayed for the reception. He's just a really great guy. I'd work with him again anytime and look forward to booking him in the future.
–IEEE
Michael's keynote speech at the National Business and Technology Conference was nothing short of phenomenal. All of us in the room were captivated. The room erupted in applause and remained abuzz with excitement as we heard Michael speak. The inspiration actually lingered all night, where delegates were asking if there would be a chance for them to meet Michael in person. Michael spoke very genuinely from the heart, and his story motivated us all in many different ways.
–President, Nspire Innovation Network
I had high expectations and Michael did not disappoint! He's got a great stage presence, and speaks with the boldness and conviction of an entrepreneur who has actually been there and overcome massive obstacles on his path to success. If you're looking for a speaker to challenge your audience into thinking big, Michael is your guy.
–Ivey Alumni Network Toronto
You blew it out of the ballpark for us! You are a true visionary - your insight and presentation were bang on. The feedback was all very positive. We were thanked for not providing an event that focused on HR but for providing a speaker that talked business, change and the future who just happens to be a strong supporter of HR. Thank you for your time, energy, insights.
–Director, Mentorship and ENG, Toronto Chapter - HRPA
Michael Hyatt is an outstanding keynote speaker! Michael's approach at looking at the big picture before digging into the details makes him completely stand-out from other keynotes we've booked. He is incredibly engaging and takes complete command of the room. While Michael may be a tech entrepreneur, he'll deliver much more than that in his keynote. Can't wait to have him back on stage again!
–Partner, Canadian Emerging Company Services Leader, PWC
Michael is an engaging, passionate and impactful leader and speaker. His energy is captivating, his message is inspiring and his ability to connect with a multi generational team demographic. If you are looking for a connected leader with a magnetic capability to galvanize a team, Michael is it!
–Vice President & General Manager, Hewlett-Packard (Canada) Co.
Mr. Hyatt's boundless energy and corresponding ability clearly demonstrates all the qualities our elite panel of judges was looking for in a Top 40 candidate. His effective and coherent strategy building helps drive BlueCat Networks' corporate morale and culture. Our hope in recognizing him and entrepreneurs like him, is that people will follow in their footsteps-doing what's best for their respective industries as well as for Canada.
–Caldwell Partners
[Less..]