Paul Pacific
Mind Reading, ESP & Mentalism Shows for Corporate Events
Bio
Paul Pacific has been performing his unique brand of mind reading, ESP and mentalism for more than a decade and has entertained audiences in more than five countries. To list just two of his accomplishments, he was once asked to find the general manager of Paramount Canada's Wonderland who was hiding somewhere in the park. He did manage to find her in less than 2 hours and 45 minutes - even though she was wearing a DISGUISE!! On another occasion, he drove a car while blindfolded through the streets of Niagara Falls, using only the guidance of the thoughts of the brave committee in the car with him.

Paul is an extremely popular entertainer, frequently engaged for corporate events, conferences, as well as college and university shows. He offers his unique talents in the forms of strolling mentalism for receptions, trade shows and hospitality suites as well as interactive stage shows.
Show Description
Strolling Mind Reading & Telepathy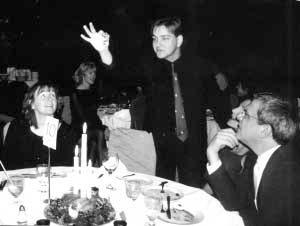 Demonstrating the linking of 3 borrowed rings
This type of show is ideal for events such as: cocktail parties, hospitality suites, or dinners where there is no central stage. Paul will astonish your group with the same intensity as the stage show, only in a more intimate and personal manner, such as from table to table, or from small group to group. Imagine each one of your guests expressing their enjoyment at experiencing telepathy first hand, up close and personal.
Stage Shows

Finding the word chosen by the audience
This is Paul at his best! Whether or not he is working on a small riser or a ballroom floor, Paul's versatility and adaptability will be perfect for your venue. Generally, this type of show lasts over an hour and includes all aspects of the mind's potential, including telepathy, clairvoyance and precognition. The show is highlighted with humour and plenty of audience participation. Although Paul's show is funny, it is "squeaky clean" and suitable for any audience. Paul's versatility also extends to the length of his show. While in most cases an hour long performance is ideal, Paul can increase or decrease the amount of time necessary for your specific needs. See for yourself why his show is the best of its kind!
Trade Shows +

If you want your booth to stand out at a trade show, then you can't afford to do without Paul Pacific! Paul will utilize your company's product or service in his mind-reading experiments to customize his performance to your specific needs. Imagine an extraordinary experience that your potential clients will NEVER forget because your company will be locked in their mind for DAYS afterwards. This unique experience will leave your competitors wishing that they had hired Paul first!! --
Publicity Stunts +

Anything that has to do with the mind can be turned into a major news gathering event. Do you want some free publicity? Hire Paul to drive blindfolded through the streets of your city for example. Have him find a hidden object somewhere in your business, or even in your city. Have Paul customize the publicity event to fit your needs. He once predicted the headlines of The Globe and Mail newspaper weeks in advance for Taboo Resort. He has also opened a new mall by finding the "shopping centre's key" hidden somewhere in the building. Use your imagination to come up with some fantastic stunt, or have Paul suggest a few ideas to draw attention to your business. --
Paul Pacific is represented by K&M Productions. For more information and booking Paul Pacific contact us.
What Clients are Saying
Unbelievable! We were all impressed with the way you walked out to centre stage and immediately took control with your unique sense of humor and uncanny skill. We all agree it was the best show of its kind we have ever seen. Highly recommended!!
–CIBC
[More..]
Unbelievable! We were all impressed with the way you walked out to centre stage and immediately took control with your unique sense of humor and uncanny skill. We all agree it was the best show of its kind we have ever seen. Highly recommended!!
–CIBC
Your show was nothing short of amazing. As when any large group gets together, it is usually very difficult to find a performance that would appeal to the masses. Your performance was the first I have known that was truly enjoyed by all. Not only did you provide an entertainment factor but you also involved the audience throughout the entire show. There were elements of amazement and laughter and you kept the audience thinking well after the show ended. I am still today receiving calls from individuals complimenting your show. We will also recommend your show for other Scotiabank events. Thank you for the enjoyable evening and we look forward to seeing you in the future.
–ScotiaBank
I just wanted to drop you a line to thank you for recommending Paul for our event. His performance was entertaining and fun, and the feedback I got from attendees was fantastic! I'd definitely recommend it for other events.
–Tim Hortons Inc.
Paul surpassed our expectations of entertaining us, and did so with charm, humor and extraordinary showmanship. I actually had my staff call me at home to thank me for the wonderful time they all had - a real first, as I have been planning the entertainment at our events for the last seven years.
–Xerox Canada Inc.
Your show was simply amazing! Your high energy and obvious tremendous knowledge of thought reading had us amazed and entertained. Somehow you seemed to read our minds like books and I wanted to thank you for making everyone feel like participants rather than just spectators.
–Intel
I just wanted to say how much we enjoyed Paul Pacific on Thursday evening – everyone here was talking about it afterwards and saying they thought it was one of the best shows we have had. We are now in the midst of Physical Inventory Counts because it is year-end, and I keep hearing little snippets of "How could he possibly have known …." – he really was most entertaining.
–Rosco Canada Ltd.
I have heard nothing but great reviews from our Board of Directors. Thanks again for a great show!
–Shoppers Drug Mart
[Less..]