Dr. Greg Wells
CTV Sport Science Analyst, Health & Peak Performance Expert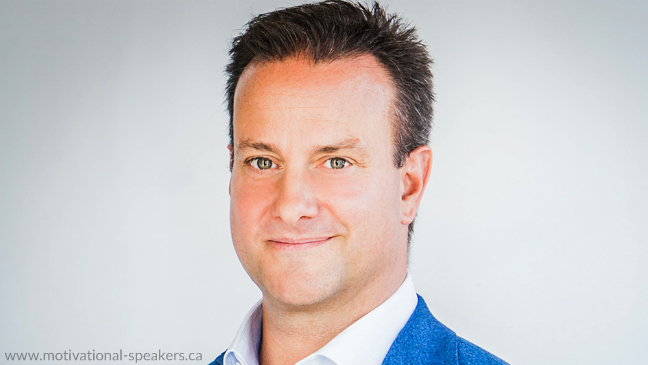 Bio
In high performance business situations, the human mind and body have to work together for ultimate results. Speaker Dr. Greg Wells is a health and high performance expert who draws the parallels between elite athletes and top executives to help business leaders perform at the highest level, even when under the most extreme circumstances. +
As a high school student, Dr. Wells broke his neck in a freak accident while swimming in the ocean. After neurosurgery, he was told by his doctor that he would never perform as an athlete again. He went on to compete at the international level in swimming, competing in events such as the Nanisivik Marathon 600 miles north of the Arctic Circle, Ironman Canada, and the Tour D'Afrique, a grueling 11,000-kilometre event that is the longest bike race in the world.

Throughout his career, Dr. Wells has coached, trained and inspired dozens of elite athletes to win medals at the Commonwealth Games, World Championships, and the Olympics. He has also studied athletic performance in some of the most severe conditions on the planet, including the Andes Mountains and the Sahara Desert.

Currently, Dr. Wells is an associate professor in kinesiology at the University of Toronto and serves as a Senior Scientist in Translational Medicine at The Hospital for Sick Children. At Sick Kids he leads the Exercise Medicine Research Program, exploring how to use exercise to prevent, diagnose, and treat chronic illnesses in children.

A frequent contributor to The Globe and Mail, Dr. Wells is often used as an expert source for top media outlets including USA Today, ABC News, "20/20," The Discovery Channel, TSN, CBC, and CTV. He also served as the sports medicine analyst for the Canadian Olympic Broadcast Consortium for the 2010 and 2012 Olympic Games.

He is also the bestselling author of three books Superbodies: Peak Performance Secrets from the World's Best Athletes, The Ripple Effect: Sleep Better, Eat Better, Move Better, Think Better, and The Focus Effect.--
Topics
Dr. Greg Wells' presentations and workshops are designed to educate, inspire and lead people towards better performance and health by getting them to sleep soundly, eat smarter, move more, think clearly and to perform better.
The Corporate Olympian
Peak performance secrets for business leaders

Dr. Greg Wells, a scientist who specializes in extreme human physiology, draws the parallels between elite athletes and top executives to help business leaders perform at the highest level, even when under the most extreme circumstances.

In this presentation, Dr. Greg Wells shows the audience how the science behind world-class athletes can improve the performance and health of people in the business world. +
Olympic athletes train and compete at the highest levels on a consistent basis over many years. They face the pressures and stresses of setbacks, change, travel, competition, and performance on demand, and still find a way to excel. These are the same challenges that are faced by business people, and the tools and techniques that Olympians use can be applied by anyone at any time to ensure success.

This presentation is based on the best-selling book Superbodies: Peak Performance Secrets from the World's Best Athletes. --

The Power of Challenge
How to Overcome Obstacles, Improve Health, and Enhance Resilience

Do you ever look at professional athletes and elite performers and wonder how they manage to do it all? In this inspiring and content-rich keynote presentation, Dr. Greg Wells takes to the stage to show you how they do it and how you can, too. Audience members will learn strategies being utilized by some of the best athletes in the world to stay at their peak performance in many different facets of their lives. +
The tools, tactics and strategies shared in this powerful presentation can help anyone overcome obstacles, improve health, and enhance resilience. Learn how to turn threat into challenge, distraction into focus, and tension into flow.

This presentation is specifically designed to address mental health and performance. Once put into action, the strategies presented in this keynote can help you think better, feel better, and perform better, allowing you to achieve the life you've always imagined. --
The Ripple Effect
Sleep, Think, Eat And Move Better for Exponential Health and Peak Performance

The latest research findings show that humans now have the potential to live a healthy life for 120 years or more, making optimal health paramount to a life lived to the fullest. In this engaging and inspiring keynote presentation, Dr. Greg Wells shows audiences how they can leverage the power of exponential health technologies and techniques to perform at their peak and improve their overall health and well-being. +
Dr. Wells shares tactics to help balance health span and lifespan, how to combine mental and physical activation techniques, and how to optimize brain function to exponentially improve health and performance. These techniques have endless benefits for people of all backgrounds and professions, allowing them to supercharge their life, break through obstacles, and reach their full potential.

Unlike other self-help presentations, Dr. Wells' inspiring keynote also includes methods for putting lessons learned into action that help participants immediately implement these life-changing techniques.

This presentation is based on Dr. Wells' latest best-selling book The Ripple Effect. --
Building Healthy High Performance Teams: There Are Teams…. And Then There Are Healthy High-Performance Teams
It's common knowledge that productivity increases when people collaborate well. That goes for businesses, schools and universities. High-functioning teams are good for profitability, student achievement and even fun get-togethers.
But what makes a terrific team? Is it putting the greatest minds together? Socializing outside of work? Grouping people by experience? Having the same level of education? Having a strong leader? Good teams might have some or all of those things. But so do bad teams. When you take the time to review the research, none of those factors explain what makes a great team great. +
In this presentation Dr. Wells leads teams through a 5-step process for establishing healthy high-performing teams. This workshop is based on the Aristotle Project research at Google and Dr. Wells' experience working with international level sports teams and extreme expeditions to some of the world's most challenging environments such as the Sahara Desert and the Andes mountains. Participants will learn how to perform more effectively as individuals and as a team while improving their work environment to optimize mental health. --
Dr. Greg Wells is represented by K&M Productions. For more information, fees, Greg Wells' speaking schedule & booking Dr. Greg Wells, contact us.
What Clients are Saying
What a fantastic opening speaker! You have such a gift of weaving the personal with your professional knowledge, of combining heart and humor, and of linking the physical and the mental… My only suggestion: next time bring more copies of your book!
–OPSOA
[More..]
What a fantastic opening speaker! You have such a gift of weaving the personal with your professional knowledge, of combining heart and humor, and of linking the physical and the mental… My only suggestion: next time bring more copies of your book!
–OPSOA
I wanted to thank you again for joining us in Scottsdale. You did such an amazing job…everyone loved your session! I had a ton of great feedback afterwards and throughout the past few days.
–Sysco Foods
Thank you so much for your assistance in setting everything up for Greg's presentation. It was universally well received. Teachers loved the presentation; he was able to answer questions from the staff and was warm and personable. He also encouraged people to answer questions after his presentation and stayed for over 30 minutes to do this. Overall, it was a great presentation.
–Toronto District School Board
[Less..]