Dr. Ivan Joseph
Award Winning Performance Coach; Leadership & Cultural Transformation Expert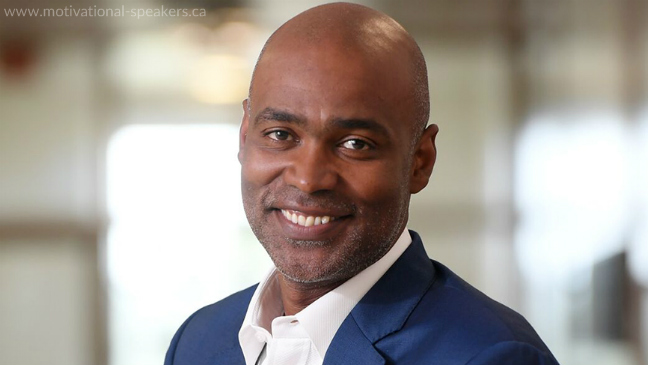 Bio
Dr. Ivan Joseph wants you and your team to succeed — and he knows how you can do it. An award-winning coach, educator and, leader, Ivan has spent his career leading cultural transformation, helping people believe in themselves, and creating cohesive teams. Ivan speaks about self-confidence, embracing the "grit" to persevere in spite of setbacks, and leading teams to success, drawing from the lessons he's learned from a life in sport. Dynamic and engaging, Ivan always leaves audience with a memorable experience that adds value long after the presentation ends. +

While serving as a professor and soccer coach at Graceland University, he developed the soccer program from the ground up, leading both the men's and women's teams to a #1 national ranking, and the men's team to win the first-ever national championship in Graceland's history — in just five years. As a result, the National Association of Intercollegiate Athletics recognized Ivan as their National Coach of the Year in 2006.

Beginning in 2008, Ivan spent a decade as Director of Athletics at Ryerson University in Toronto, leading the transformation of the athletic department rise to national prominence. Ivan also spearheaded the landmark $100 million renovation of the historic Maple Leaf Gardens, created a culture of belonging and pride across Ryerson's diverse urban campus, and helped student-athletes break records with their athletic, academic, and outreach activities. His efforts also helped the Ryerson Rams win the first-ever provincial and national championships in the institution's history.

In the fall of 2018, Ivan took up his newest post as Vice-Provost, Student Affairs at Dalhousie University, a 200-year old major research institution in Halifax. In this senior role, he leads the university's effort to promote interconnectedness and belonging among a diverse student body drawn from across the country and around the globe. Ivan is also regularly called on to support national team programs. In 2018, he was selected as Head Coach for the women's national soccer team in his native Guyana, and, in 2017, he was the high-performance coach for the Canadian men's basketball team that won the country's first ever FIBA Under-19 Basketball World Cup.

Along with being an in-demand consultant and speaker, Ivan contributes regularly to publications like the Huffington Post and The Globe and Mail. He also wrote the 2017 book You Got This: Mastering the Skill of Self-Confidence and delivered a TEDx talk called "The Skill of Self-Confidence," with almost 14 million times views on YouTube.

Born in Guyana, Ivan grew up in Toronto, where he was a nationally ranked high-school track and field athlete. He has a BA in Physical Education and Health, an MS in Higher Education Administration, and a PhD in Sports Psychology. --
Topics & Categories
Change | Change Mgmt.
Leadership
Motivational
Performance & Productivity
Sports Figures
Team-Work & Collaboration
Universities & Colleges
Dr. Ivan Joseph's Speaking Presentations:
The Skill of Self Confidence

It takes self-confidence to get things done. In fact, that is how Dr. Ivan Joseph defines self-confidence: The ability to accomplish the task at hand. Using visualization and other exercises, he helps people get a sense of the current level of their self-confidence. +
In this fascinating and research-based talk, Dr. Joseph discusses:
The attributes of self confident people;
How to develop self confidence;
Giving feedback that builds self confidence;
Self-talk and self-affirmation;
Interpreting failure;
With a PhD in sports psychology, Dr. Joseph shares studies that apply in business and life. He put these studies to use in his work – he coached at the World Championships and took a collegiate soccer team from a losing record to the National Championship in just five years.

In this dynamic and engaging keynote, audiences gain specific tips and take-aways to build their own and others' self-confidence. --
Leadership Tools for Team Excellence

High performing teams have similar attributes. Using examples of business people and from his own coaching experience, NAIA National Coach of the Year Dr. Ivan Joseph shares four key tools for team excellence: +
Grit. Grit is the ability to persevere despite setbacks to accomplish a task. Grit is an attribute of many successful people. In fact, grit is a higher predictor of success than many other factors including intelligence, hard work–over 112 other factors measured.

Grit is an attribute we can develop in ourselves, and coach for in others. Ivan shares how to develop grit. Most importantly we should praise the effort, the diligent work–that is what builds grit.

Focus. Goals are a part of focus, yet we get caught up in the distractions. Learning to maintain focus in the face of distractions leads to higher performance.

Cohesion. Leadership and teamwork is all about relationships. High performing teams are more cohesive and value relationships. Dr. Joseph shares examples of how to build community, the importance of touch, and exercises he uses.

Talent for the Task. Great leaders must be adept at identifying and putting the right person with the needed skill-set in the right role. And, the role must be enticing for the person.

In this highly interactive talk, leaders learn tips and tools to help their teams achieve a higher level of performance. --
The Pygmalion Effect

In business and life, the Pygmalion Effect–the idea that the greater the expectation, the better people perform–is at work in how we lead and interact with others. Too often, "good enough" is what we accept. If those you lead aren't performing at the highest level, look within. +
Each of us transmits subtle cues to others about what we expect – and people do what we expect of them.

Once Roger Bannister broke the 4 minute mile, within the next six months a number of others did too, with no special training.

Dr. Ivan Joseph was a good soccer coach, but he wanted to be a great coach. In his dynamic talk, he shares what he did to help his team gradually improve their performance, while at the same time improving their grades. His team ended up winning the National Championship, and he was recognized as Coach of the Year. --
Dr. Ivan Joseph is represented by K&M Productions, For more information, Dr. Ivan Joseph's speaking schedule, fees, & booking Dr. Ivan Joseph, contact us.
What Clients are Saying
We had a lot of positive feedback regarding Dr Ivan's talk here at Samsung. The crowd enjoyed his talk and really appreciated his insights.
–Samsung
[More..]
We had a lot of positive feedback regarding Dr Ivan's talk here at Samsung. The crowd enjoyed his talk and really appreciated his insights.
–Samsung
Dr. Joseph was very well received by a tough group. I was thankful the delegates had an opportunity to hear his message, they were thrilled and made a point to say so! They commented that Dr. Joseph was credible, charismatic and relevant.
–Ministry of Community Safety & Correctional Services facilitated by the Ontario Police College
[Less..]